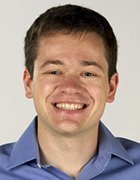 Dima Tokar
Co-founder and Lead Analyst -
MachNation -
Dima Tokar is a co-founder and lead analyst at MachNation, the leading analyst firm researching Internet of Things (IoT) middleware and platforms. His primary areas of expertise are mobile marketing, product development and enterprise mobility, most notably in the Android and iOS ecosystems.
Prior to co-founding MachNation, Dima held management positions in marketing and technology at Verivo Software, developing the next-generation, enterprise-grade mobility platform for the Mobile Enterprise Application Platform (MEAP) space. He has also held roles at Fiksu, a mobile app marketing and insight firm and at Eze Castle Software (now, Eze Software Group), a leading Order Management System (OMS) vendor for the hedge funds and traditional asset managers around the world.
Dima holds a degree in Microbiology from University of Massachusetts Amherst and a Business Administration degree in Finance from UMass Amherst's Isenberg School of Management.
Dima Tokar's Most Recent Content