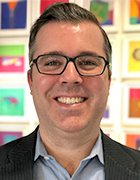 Ryan Lester
Director of IoT Strategy -
LogMeIn -
Ryan J. Lester, Director of IoT Strategy at LogMeIn, and his team own the strategic development and implementation for the go to market plan for Xively, an IoT Connected Product Management platform.
He is passionate about making IoT easy and helping companies unlock new value through connected products. Prior to this role at LogMeIn, Ryan held various sales, marketing and product positions at Intel Corporation, Cisco Systems and Eaton Corporation. Ryan received his BS in Mechanical Engineering from Villanova University, then a SM in Engineering Systems and an MBA from the Massachusetts Institute of Technology.
@davidbellona How did your skillet pizza turn out?
3:34 PM - 17 Aug 17
Ryan Lester's Most Recent Content