darren whittingham - Fotolia
Infographic: The evolution of the chief data officer role
The CDO role, which has never been rigidly defined, is undergoing a face-lift as emerging technologies present new opportunities to enterprises.
The chief data officer role was created in response to big data. As companies accumulated ever-growing stores of data, someone needed to be responsible for managing it.
This meant early chief data officer (CDO) responsibilities were largely focused on data governance. CDOs were responsible for ensuring that data was stored and used in line with relevant regulations and general best practices. While the role has always been executive level, it's had little to do with corporate strategy.
That's starting to change. As forward-looking CDOs define their job responsibilities, they're increasingly taking ownership of their enterprise's strategic use of data. They're looking for new opportunities to deploy data as a corporate asset rather than a potential risk to be managed. And in the process, they're looking to create new data cultures.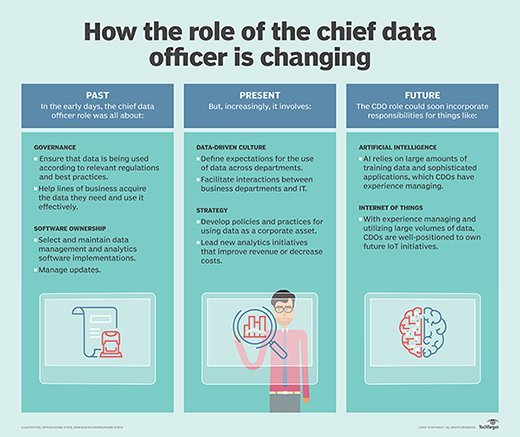 A 2017 report from Forrester described the chief data officer role as moving from a primarily defensive one to something more offensive. They're looking for ways to deploy new analytics technologies, like AI and the internet of things, to create new business opportunities and, in the process, they're expanding what CDO responsibilities are all about. For example, when wireless carrier AT&T created a new CDO role last year, it made all things AI a part of the new executive's remit.
In some ways, it's natural that the chief data officer role should include these technologies. The growing interest in new analytics technologies -- and AI, in particular -- has spurred many enterprises to launch new initiatives. These projects are less of a natural fit for more traditional executive roles, like the CIO. This puts the CDO in a strong position to take ownership of new analytics initiatives.