creative soul - Fotolia
Prepare your IT staff for a transition to the cloud
The cloud requires different types of skills compared to on premises. While there's a learning curve to cloud roles, training current staff is a better bet than competing for talent.
Cloud computing can provide various benefits, such as scalability and cost savings, but only in the hands of a properly trained team.
Cloud providers give businesses near-limitless compute resources at the click of a button, so IT staff need to control and manage those services to avoid issues such as underutilization, unbudgeted costs, increased security risks and compliance missteps. Cloud management doesn't always come naturally to teams accustomed to working with on-premises data centers and virtualized resources.
Some on-premises IT skill sets and jobs don't exist in the cloud world, or don't translate well to comparable cloud roles. Plus, IT teams must adapt to cultural and process transitions that come with the shift to an on-demand, internet-based computing model. It's incumbent on enterprises to be prepared for these changes if they want to succeed in the cloud.
Adjust staff skills to fit cloud roles
Enterprises, even digital-savvy and technologically enabled enterprises, generally were not built for cloud.
"One of the biggest shortages and one of the biggest barriers in the large-scale adoption of cloud is the availability of cloud-native skill sets in enterprise IT organizations," said Deepak Mohan, an analyst at IDC.
Many enterprises that transition to the cloud -- whether it's just a customer-facing application front-end or end-to-end IT workloads -- assume it's practical to hire new employees with the requisite cloud skills. But rather than compete for talent, enterprises should invest in shifting existing staff to adapt to new roles in the cloud, Mohan said.
One of the biggest shortages and one of the biggest barriers in the large-scale adoption of cloud is the availability of cloud-native skill sets in enterprise IT organizations.

Deepak MohanAnalyst, IDC
Enterprises need to look at their current staff and examine what skills can apply to cloud management.
Data is of paramount importance in an enterprise, so the first place to start with any cloud transition is to ensure IT staff are properly equipped to keep data secure, accurate and accessible, said Chris Gattoni, who oversaw the migration from on-premises data centers to AWS in his role as manager of IT at RISO, a Japanese-based printing company.
Security differs significantly between cloud and on-premises deployments, requiring different tools and policies, as well as a rethink of access rights. For example, IT organizations are accustomed to on-premises security admins implementing components such as a firewall to protect data. But in the cloud, all admins and users have a role in securing the data, such as setting up separate policies on each individual service. Enterprises all too commonly misconfigure Amazon S3 buckets when they deploy on AWS' cloud, leaving sensitive data publicly accessible. Security staff should adjust to the new functions and responsibilities in cloud and ensure access is controlled.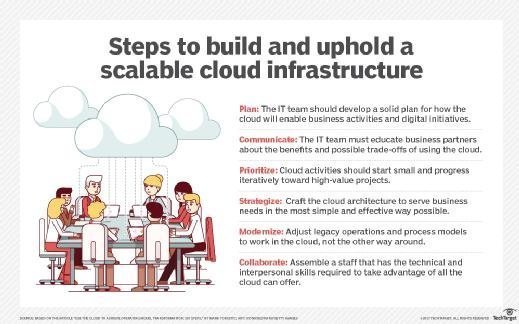 Use the right tool for the job
Workload management is another function that undergoes a big transition in the cloud, sometimes with dire consequences. For example, cloud bills can quickly rack up for an enterprise if a developer runs a VM to test a new feature, then forgets to turn it off. IT staff needs to transform or replace their on-premises management processes to function just as well in cloud, which can be achieved with services and tools.
Enterprises can take a DIY approach and modify existing on-premises tooling to work in cloud, or develop custom tools using an open source foundation. Another popular option is to use a cloud provider's native services, or third-party options. For example, tools such as Microsoft Azure Advisor and AWS Trusted Advisor can scan a cloud environment and offer optimization recommendations for crucial areas, including security, cost and performance. The challenge with such tools is there are so many, from so many vendors, that it's hard to pick the right one. And they're only part of the puzzle.
"Amazon, Azure, all these guys, they will hold your hand [during a migration]. They have the best tools because they want you in that role. But once you're there, that's where the real work begins," said Bill Saltys, SVP of Alliances at Apps Associates, a cloud migration and IT managed services provider.
Adapt processes for the cloud
Some aspects of the transition to the cloud are less tangible than a simple tool swap or retraining initiative. Cloud roles also depend on how the business operates.
For Gattoni, adjusting to a cloud role was a culture shock. After so many years of being able to tangibly work with the data center, he was forced to shift his thinking. New priorities took hold.
For example, cost management became a bigger part of his job in the cloud. Previously, he would receive a specified budget, buy the needed server and then never have to think about spending on it again -- except for general maintenance. With the cloud, when he spins up a VM, there are numerous factors that could influence that VM's cost. What was once a capital expense is now an operating expense.
"[Cost management] has kind of replaced the nuts and bolts of making sure our servers are running for me. And a lot of it for me now is ... watching those costs and runtimes," Gattoni said.
The transition to the cloud freed the IT team to focus more on providing value to the business, as opposed to their mandate to keep systems up and running. They became proactive as they sought to align the available technology and infrastructure with the company's broader strategic goals, he said.
Some IT pros may be apprehensive about letting go of on-premises systems, but sometimes a transition to the cloud is the most logical step for an enterprise to grow and succeed.
"You've got to accept it and learn to manage it and take advantage of it, or you're just going be left behind," Gattoni said.
Dig Deeper on Cloud infrastructure design and management