markrubens - Fotolia
Private cloud platforms step out of the shadows
Enterprises often confront a choice: public or private cloud. Public cloud may be the easy option, but it isn't the right one for everyone.
Public cloud adoption continues to grow, but private cloud platforms aren't dead -- in fact, they're very much still alive.
IDC predicted 75% of enterprises that use public cloud will also use a private cloud platform by 2020. While many enterprises use a private cloud in addition to their public environments, the isolated, single-tenant infrastructure can still be a suitable stand-alone option as well. One reason for the continued viability of private cloud is the technology's maturity, as well as the growth of provider and platform options, said Deepak Mohan, research director at IDC.
Also, while public cloud provides numerous benefits, such as increased scalability and flexibility, some enterprises don't want to abandon the advantages of private cloud platforms, such as more direct infrastructure control and, in some cases, lower costs.
Private cloud perks persist
Most admins want as much visibility and control over their environment as possible -- something they might feel is more achievable with private, rather than public, clouds.
Compliance and governance are crucial to enterprises that have workloads with sensitive data and must follow strict requirements, but public cloud providers may not be able to fully accommodate these needs. The emergence of new standards, such as GDPR, requires enterprises to adhere to rigid guidelines for data protection in the EU. Additionally, some enterprises have high availability requirements that public cloud service-level agreements may not always cover.
"Enterprise IT organizations have gotten used to a level of control and visibility … that they don't necessarily get from the likes of Amazon or Microsoft," said Hyoun Park, founder and CEO of Amalgam Insights, a consulting firm based in Boston.
We see an awful lot of enterprises get burned by very high costs [and] unexpected costs in public cloud because they don't do the math ahead of time.

Carl BrooksAnalyst, 451 Research
Additionally, public cloud's reputation for being less expensive doesn't always ring true, because there are numerous factors that play into how much enterprises will spend to run a workload.
"Depending on the exact scenario, it could be cheaper to run [a workload] in private cloud versus public cloud [or vice versa], but it is very dependent on the workload and outcome," said Carl Brooks, analyst at 451 Research.
Static and predictable workloads are typically better suited for private cloud platforms because enterprises can more efficiently plan for and consume resources. With greater visibility into their environment, admins can also keep closer tabs on their spending and budget.
Because of its on-demand scalability, public cloud is a good choice for workloads with unpredictable use patterns or that have sudden spikes in demand. However, this flexibility can also lead to unexpected charges and fees.
This overspend in public cloud generally happens for two reasons: Users spin resources up and forget to spin them down, or they don't right-size their resources, which results in buying more than a workload needs.
"They are pretty simple concepts, but they're much more difficult to implement in an Opex environment," said Mindy Cancila, managing vice president at Gartner.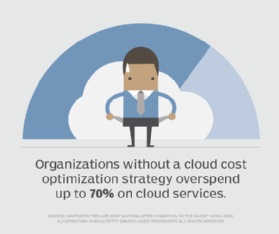 To avoid unwanted billing surprises, enterprises must perform a thorough assessment of their workload requirements -- both current and in the future -- before they move into public cloud. Use providers' pricing calculators and migration services to help estimate costs, as well as provider-native or third-party cost management tools to optimize cloud spending.
"We see an awful lot of enterprises get burned by very high costs [and] unexpected costs in public cloud because they don't do the math ahead of time," Brooks said.
Sometimes, public cloud migrations can serve as a learning experience and help enterprises better understand their workloads and needs. "What I am actually seeing is that [enterprises] are pausing, putting their house in order, because they've probably overspent or they spent more than they thought they were going to," Cancila said.
Public cloud vendors move on premises
Seemingly in response to enterprise demand for on-premises technology, some top public cloud providers now offer integrated software and hardware platforms to bring public cloud services to local data centers. The most established offering is Microsoft Azure Stack, but AWS recently revealed Outposts, a hardware appliance that brings AWS services on premises.
However, these types of technologies are still relatively new, and there are almost certainly going to be some bumps in the road when it comes to implementation.
"Things like Azure Stack and AWS Outposts are experiments by providers to see what sticks, but they're absolutely a reaction to enterprise demand for [increased] interoperability," Brooks said.
Private cloud vs. public cloud: Not an either/or debate
Of course, like many technologies, there is an ebb and flow between private and public cloud deployment models -- hence, the increased popularity of hybrid cloud.
"This isn't an either/or situation," Cancila said. "It's important [that enterprises] focus on what they actually need out of this application … and how [they can] put the right architecture in place so that [they] realize its benefits."
Enterprises should concentrate their conversations not on which deployment model is better, but how to make a workload run at its fullest potential.
"It's really more about the application and the outcome and transforming those things to take advantage of modern systems than [it is] a light-and-dark contest between public and private cloud," Brooks said.
Dig Deeper on Cloud deployment and architecture