Evaluate
Weigh the pros and cons of technologies, products and projects you are considering.
Follow the evolution of AWS Lambda
AWS Lambda sparked the rise of serverless computing in the cloud. Explore how the function-as-a-service platform developed over time with this infographic.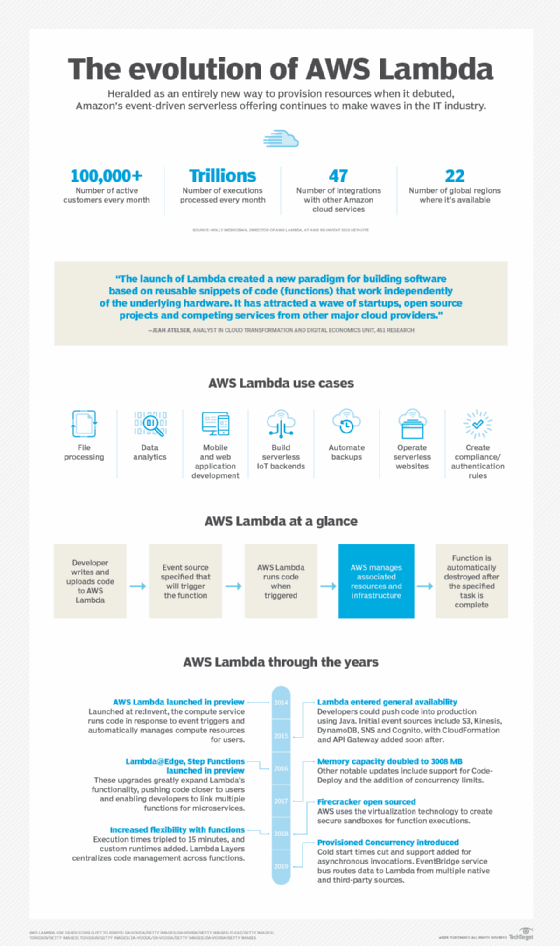 AWS Lambda was the first serverless offering of its kind -- built to relieve cloud users of infrastructure management responsibilities and execute code in response to predefined triggers.
Since the launch of this event-driven computing platform more than five years ago, AWS Lambda has become central to Amazon's cloud strategy and helped shape the state of serverless computing.
"The advantage for developers is that they don't have to worry about the hardware used to execute the applications," said Jean Atelsek, an analyst at 451 Research. "For admins, these systems make life easier, and costs lower, because they don't have to provision resources in advance."
Significant updates over the past half-decade include the increased execution time from five to 15 minutes and the launch of Firecracker, Atelsek said.
Take a look back at the evolution of AWS Lambda to see how its features and use cases molded it into the broadly used function-as-a-service offering it is today.