Get started
Bring yourself up to speed with our introductory content.
A beginner's guide to cloud computing basics
Cloud computing is complex. Use this infographic to understand the fundamentals, like how it contrasts with other computing models and the differences between IaaS, PaaS and SaaS.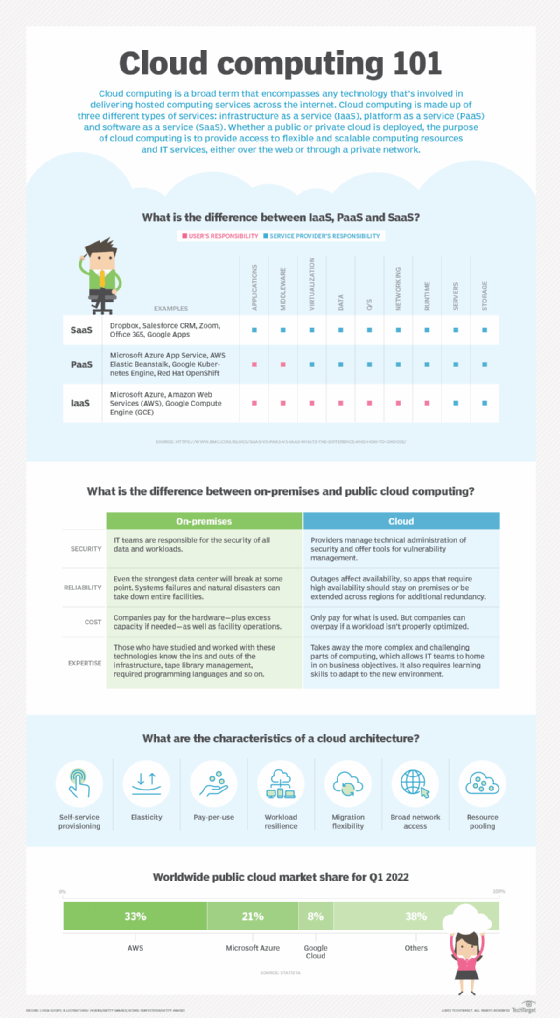 Cloud computing has been a hot topic within the IT industry for well over a decade, but it can still be a tough concept for beginners to wrap their heads around.
The cloud market continues to evolve and expand. Even industry experts and IT professionals who regularly work with these technologies occasionally disagree over what cloud computing truly entails. Cloud beginners might feel intimidated by this, which is why they need to understand the basics before diving into more complicated topics like serverless and hybrid cloud.
Walk through this beginner's guide to cloud computing basics to better understand the components that make up this complex technology. Learn the characteristics that distinguish cloud from other computing models, understand the three primary layers of cloud computing -- IaaS, PaaS and SaaS -- and see who the major players are in this space.