Nomad_Soul - Fotolia
Cloudability seeks to broaden the cloud cost management discussion
Enterprises can use a variety of software tools to control cloud spending, but they would further benefit from an operational model that aligns IT more closely with finance teams.
Enterprise IT shops increasingly turn to a broad array of tools from big cloud providers, such as AWS and Microsoft Azure, as well as third-party vendors, to rein in cloud-related expenses. But maybe what they really need is a stronger relationship between IT and finance.
Cloud cost management startup Cloudability proposes such a framework. Its model spans three areas: better visibility into a company's cloud spending, partly through benchmarks against its peers; more accurate prediction of cloud resource demand to reduce waste; and a governance layer to support interaction between finance and IT teams over cloud costs.
The rise of cloud and DevOps practices has broken traditional procurement models as engineers spend money on cloud services at will, according to J.R. Storment, Cloudability's co-founder.
"It's all going through a centralized agreement, but there are no cost controls in place," he said. "Executives are now coming in and saying, 'Run fast, but have some cost accountability.'"
Cloudability wants to generate more awareness and business from its framework, which it refers to as FinOps. The term isn't new, and Storment acknowledged it is essentially shorthand for cloud financial management. Nevertheless, now is an opportune time for enterprises to formalize best practices as their cloud IT spend grows at a much faster rate than on-premises technologies, he said.
CIoudability is behind the launch of the FinOps Foundation, a nonprofit industry group for organizations to network and share best practices centered around this approach to IT procurement practices. Founding members include Joseph Daly, director of cloud optimization services at Nationwide, as well as several other individuals with similar roles at companies such as Atlassian, Autodesk and Spotify.
The foundation and Cloudability hope to gain more momentum with a CloudyCon event scheduled later this year that will focus exclusively on FinOps.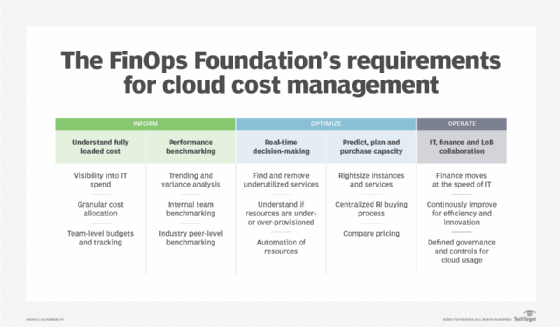 Cloud cost management tools abound, but changes lie ahead
The cloud cost management market has seen a run of consolidation lately: Microsoft purchased Cloudyn and HPE grabbed Cloud Cruiser, both in 2017, and in 2018 Apptio went private and VMWare bought CloudHealth Technologies. Cloudability competes with those tools, in addition to CloudCheckr, RightScale and others, to help enterprises track their costs across multiple cloud platforms.
Many other independent vendors offer similar capabilities, not to mention the increased number of native cost management options from AWS, Azure and Google Cloud Platform.
There is ample need for such tools today, said Frank Scavo, president of Computer Economics, an Irvine, Calif., company that develops spending benchmarks for IT shops.
"Cloud infrastructure turns a fixed capital expense into a variable spend model in the IT operational budget," Scavo said. "You are not locked into fixed costs for IT equipment, but it also means that there is now a lot of decentralized procurement."
The next trend will be to optimize cloud costs on an ongoing basis.

Owen Rogersanalyst, 451 Research
That move may be a big cultural change for finance teams, particularly in large enterprises that are still in early days of their move to modern cloud services. But as IT staff and line-of-business users increasingly decide how much and what types of cloud services to consume, the ability to monitor and support that activity can help optimize those costs on a day-to-day basis, Scavo said.
Meanwhile, cost management vendors, such as Cloudability, must keep pace with market needs and evolve their capabilities accordingly. AWS and others have improved their native reporting and budgeting tools, but third-party products will remain relevant for their independence and ability to monitor heterogeneous environments, said Owen Rogers, an analyst at 451 Research.
"The next trend will be to optimize cloud costs on an ongoing basis," he said. "So not just showing customers where they can make savings, but actively executing the buying, selling and migration of cloud services to balance costs against requirements across multi-cloud environments."
Most enterprises aren't ready to trust an algorithm for cloud capacity planning, but as AI and machine learning improve, automatic cost optimization will become a standard part of most cloud deployments over the next 10 years, Rogers said.
Dig Deeper on Cloud deployment and architecture