everythingpossible - Fotolia
Evaluate private cloud service providers in the market
Red Hat, Microsoft and VMware all provide private cloud environments that offer security and compliance, but it's important to consider other business needs, as well.
Security and compliance are two reasons that virtualization administrators might choose to adopt a private cloud over the public cloud, but there are several private cloud service providers to choose from. Admins should thoroughly evaluate each option based on their current business needs and future goals before making a decision.
Many organizations turn to a private cloud because it offers increased security. Companies using the public cloud have no control over where their provider hosts and protects data. If cloud services are hosted from an organization's own data centers, it's much easier to guarantee that the cloud meets all the business's security requirements.
Compliance is another reason that companies might choose to build a private cloud instead of migrating workloads to the public cloud. Government agencies often require data to be kept in a specific geographical area, and it's easy to meet this requirement by hosting data in the private cloud; the owner of the private cloud is in full control.
Before evaluating private cloud service providers, it's important to understand what is considered a private cloud service. A private cloud service is similar to a software-defined data center (SDDC) in that virtualization is a key element the service provider delivers, and the virtualization happens at different levels, including networking, storage and servers.
Many vendors offer some of these virtualization elements, but admins should start by evaluating the vendors that offer all three.
Private cloud platforms
Some private cloud service providers offer complete platforms, such as Microsoft Azure Stack, VMware vRealize and IBM Cloud Private. Many private cloud platforms are based on OpenStack, such as Helion -- formerly part of Hewlett Packard Enterprise (HPE) -- Red Hat Cloud Suite and SUSE Cloud.
Just because an admin implements a specific platform doesn't mean the company can only use that service, however. Many companies use more than one private cloud platform. Data from an OpenStack user survey shows that 78% of OpenStack users also use another cloud platform.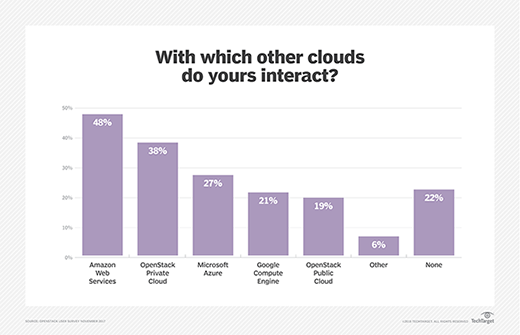 Red Hat Cloud Suite
Red Hat started out as a Linux vendor, but, in recent years, it has expanded its activities to become a major provider of software that admins can use to build private clouds. The flagship product for building private clouds is Red Hat Cloud Suite. This suite combines several components that are also available as stand-alone products.
A core component is the Red Hat OpenStack Platform. Virtualization is provided through Red Hat Virtualization. Storage is offered through Red Hat Storage, which is based on the Gluster open source technology, or Red Hat Ceph Storage, which is based on Ceph object storage.
Apart from the above products, which all focus on infrastructure, Red Hat offers OpenShift and CloudForms. OpenShift is a Kubernetes-based platform that admins can use to deploy applications in a private cloud and CloudForms is a hybrid cloud infrastructure management tool.
Microsoft Azure Stack
Microsoft is well-known for its public cloud, but it's also one of the many private cloud service providers that organizations can choose from. Companies can use Microsoft Azure itself as a public cloud; but for those that want Azure functionality from within the secure environment of their own data center, there is Azure Stack.
Microsoft offers Azure Stack as a hybrid cloud platform because it integrates well with Azure public cloud, but admins can use it as a complete private cloud platform. This guarantees that all the fundamental components of the SDDC are running behind the firewall in the data center.
VMware vRealize
VMware says it supports private cloud, but it's not clear what the company's private cloud product is. One could say that combining VMware vSphere, NSX and vSAN creates an SDDC and composes a private cloud offering.
However, this amalgam of products used as a private cloud is missing some key private cloud features that make it easy to scale the private cloud up or down, such as automation, developer tools and intelligent operations. VMware vRealize Suite fills that gap, so some people see it as the VMware private cloud offering.
VMware also offers VMware Integrated OpenStack (VIO), a platform that exposes OpenStack APIs to vSphere environments; as such, it's also considered a private cloud offering. VMware does have an issue positioning VIO against vRealize, however, because vRealize already provides a comprehensive hybrid cloud offering.
HPE/Micro Focus
One of the lesser-known private cloud service providers is HPE. HPE has offered cloud platforms based on Helion OpenStack since 2014.
In 2017, the company decided to go in a new direction and stopped offering its OpenStack-based software. HPE's focus is now on selling hardware; the company no longer offers its own cloud software.
The HPE Helion cloud software has now shifted to Micro Focus, the parent company of SUSE. Helion functionality is integrated with SUSE OpenStack Cloud 8.
Dig Deeper on Cloud deployment and architecture