buchachon - Fotolia
Red Hat Hyperconverged Infrastructure for Cloud launches
Red Hat expands its hyper-converged infrastructure lineup with a cloud offering that combines OpenStack and Ceph. The new option joins Gluster-based HCI for Virtualization.
Red Hat expanded its hyper-converged infrastructure product line to target cloud environments by combining its...
Continue Reading This Article
Enjoy this article as well as all of our content, including E-Guides, news, tips and more.
supported OpenStack Platform and Ceph storage software distributions.
Red Hat Hyperconverged Infrastructure for Cloud is the vendor's second open-source-based HCI. Red Hat HCI for Virtualization, introduced in June 2017, integrates the company's supported distributions of the Gluster file system, Enterprise Linux operating system, Kernel-based Virtual Machine hypervisor and Ansible deployment tool.
Red Hat Hyperconverged Infrastructure for Cloud packages the company's OpenStack Platform 13 and Ceph Storage 3 software releases into a single SKU price based on the number of socket pairs. The product is expected to be generally available in June.
"Everyone from telcos to enterprises tells us, 'OpenStack is great. It's got a lot of flexibility. Yet, there's complexity. So, just give us simple building blocks that we can add as we grow capacity and simplify the overall customer experience,'" said Irshad Raihan, senior manager of storage product marketing at Red Hat, based in Raleigh, N.C.
Manage as a single unit
Red Hat Hyperconverged Infrastructure is designed to allow customers to manage their Ceph and OpenStack software as a single unit as they build large pools of compute and storage resources in public and private clouds. Red Hat certifies upgrades, patches and fixes for OpenStack and Ceph, so customers don't have to do the testing.
Raihan said Red Hat HCI can be managed by IT generalists who aren't experts in OpenStack or storage. Management is "under the covers" through the Red Hat OpenStack Platform Director toolset, he said. Customers have the architectural option to run dedicated compute and storage nodes at the center and run HCI nodes on servers at the edge.
To facilitate its new HCI product, Red Hat simplified the pricing model. The company shifted from Ceph's capacity-based pricing to socket-pair pricing to align with the way OpenStack users build out their environments.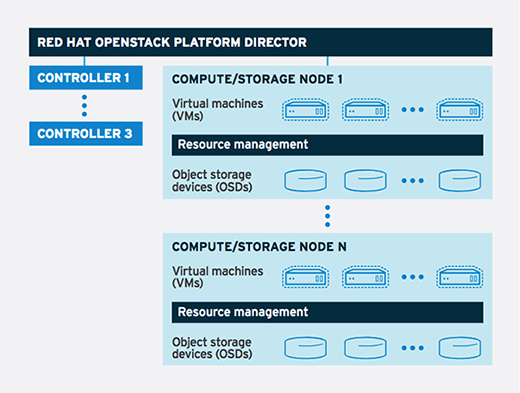 Reduced hardware footprint
One advantage of the new, single SKU for OpenStack and Ceph is customers can reduce their hardware footprint. Using the products separately requires three nodes for the OpenStack Director controller, three OpenStack compute nodes and three Ceph storage nodes. Running compute and storage off the same nodes will enable users to go from nine nodes to six, Raihan said.
Customers can choose the server hardware to run Red Hat Hyperconverged Infrastructure for Cloud from the compatibility list for Red Hat Enterprise Linux. Users who prefer a Red Hat HCI product that bundles hardware and software, with a single point of support, have limited options. Red Hat has an agreement with Commvault for a hardware-software appliance and is investigating additional possibilities, Raihan said.
Red Hat Hyperconverged Infrastructure for Cloud has been in limited availability for about a year. Raihan said the greatest enthusiasm for the OpenStack-based offering has come from telcos, communications service providers and customers that use Red Hat's OpenShift Container Platform to build applications for public, private and hybrid clouds. He noted that Ceph and OpenStack processes run in containers, enabling greater efficiency in resource use.
Raihan said he expects hyper-converged will become the default mode for Red Hat Storage deployments, rather than separately buying the OpenStack and Ceph products or Gluster and virtualization software.
"We definitely are seeing the rising tide around hyper-converged," Raihan said. "There's more confidence from a customer's perspective. There's hardware savings and easier management. One of the things that bubbles up a lot is application portability: 'I have my core data center. I have public clouds. And I have the edge. How do I consolidate applications across these?' Hyper-convergence comes up as an easy way to be able to do that. It simplifies management, and you're able to reuse building blocks from the edge to the data center, for instance, and take some learnings back and forth."
Competition for the new Red Hat Hyperconverged Infrastructure for Cloud will come from any hyper-converged storage that can work with OpenStack, Raihan said.
"We're not here to be the Nutanix killer. Our story is around open. We bring our consulting expertise, and we'll work with you to leverage what you've already got," Raihan said. "This is not meant to be the next big hyper-converged solution that will take out all of the players that have been there for many, many years. We definitely see a niche in terms of customers that need the flexibility to address the requirements of the edge in the future. That's who we are going after."
Dig Deeper on Converged infrastructure management