Fotolia
Red Hat Ceph Storage 3 adds file, iSCSI, container support
Red Hat updates Ceph storage software with support for CephFS file system, iSCSI block interface and Linux container-based storage implementations, plus usability improvements.
The Red Hat Ceph Storage 3 upgrade due later this month will enable broader enterprise use cases through newly added support for the Ceph file system, iSCSI block storage and container-based storage deployments.
Until now, Red Hat's open source Ceph software could serve as a block or object storage backend for OpenStack cloud deployments. This month's introduction of the Ceph file system (CephFS) will round out the support for the three major storage types in Red Hat Ceph Storage for OpenStack.
Although Red Hat has long offered file-based storage through its Gluster software product, the company envisions different use cases for the CephFS and GlusterFS file systems.
"If you're using OpenStack, you should use Ceph and all it brings: object, block and file. If you're just looking for a generic NAS replacement for NetApp or Isilon, then it's the Red Hat Gluster product," advised Neil Levine, director of product management for Ceph Storage at Red Hat.
He said the company will wait to see the market response to CephFS use cases outside of OpenStack.
Levine said most Ceph object storage users run the software without OpenStack, but the majority of Ceph's block storage customers have been OpenStack users. Many of those OpenStack Block Storage customers requested iSCSI support from Red Hat to be able to use Ceph in other environments, such as their VMware virtual machine (VM) deployments.
"Much of this legacy VM storage sits on expensive SANs, so they want to move the storage to somewhere more cost-effective while leaving the application where it is, on VMware," he said.
New iSCSI gateway
Red Hat said its newly added iSCSI gateway for Ceph would ease migration from legacy storage systems and enable a wider range of use cases, including backup and recovery. The company expects the iSCSI support to benefit VMware and Windows users in particular, because those systems lack a native Ceph driver.
Levine said, in the past, customers "downloaded random bits of advice they found on the internet" for a workaround, or they simply didn't deploy Ceph in their legacy VMware and Windows environments. But Red Hat did the necessary work in the Linux kernel to be able to add support for iSCSI block storage in Ceph, he said.
The third major new feature in Red Hat Ceph Storage 3 will enable customers to deploy the software in Linux containers. Containerized storage daemons will enable users to colocate services on host servers, rather than having to use dedicated hardware, so they can reduce the server footprint and simplify operations, according to Irshad Raihan, senior manager of storage product marketing at Red Hat.
Raihan said the Red Hat Ceph and Gluster products support container deployments, but they target different audiences. He said Gluster containers take aim at developers building cloud-native applications, whereas Ceph container would hold appeal for storage administrators.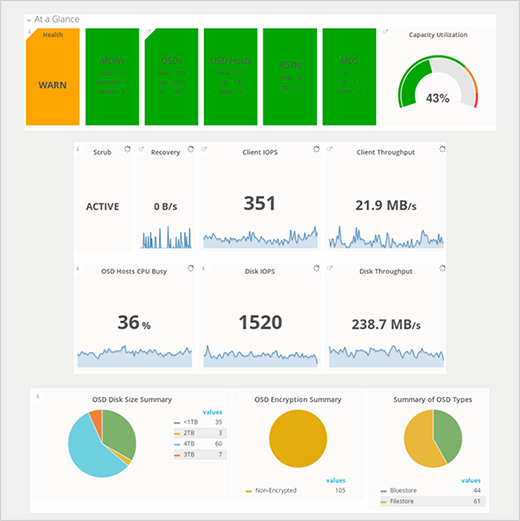 Containerization is 'packaging effort'
"Essentially this containerization is a packaging effort. Rather than giving software in an ISO format from a DVD or its individual packages, you're getting it as an image format," Levine said. "By deploying it as an image format, it simplifies a lot of operations. Updates and upgrades become much easier because you're literally just installing a new image. By running it in a container, you can limit its resources and make sure you can run multiple things on the same machine."
Red Hat Ceph Storage 3 also adds a new web-based interface to help administrators monitor and troubleshoot distributed storage clusters and other usability enhancements, such as dynamic bucket sharding, to ease maintenance.
Amita Potnis, a storage systems research manager at IDC, said most Ceph adoption has been on the block side to date, but object storage has started to pick up. She said the addition of CephFS support would give customers additional flexibility to create a unified storage pool for block, file and object and reduce the management overhead of maintaining separate storage silos.
Ceph competition
Potnis said Ceph's primary competition is mainstream storage vendors, although on the file and block side, it extends to public cloud storage service providers, as well as traditional and smaller vendors.
SUSE -- a competitor that also sells a supported version of open source Ceph -- has been ahead of Red Hat in shipping many new features. For instance, SUSE offered CephFS in its Enterprise Storage 4 product that became available late last year, and its new Enterprise Storage 5 supports the much anticipated, new performance-boosting BlueStore storage backend.