agsandrew - Fotolia
Red Hat Ceph Storage 4 aims to address complexity concerns
Red Hat claims new Ceph installer and management dashboard mean administrators won't require a 'degree in distributed systems' to set up storage clusters anymore.
Simplifying the installation process and improving usability aren't generally big news in a fourth-generation enterprise storage product. But they're significant in the Red Hat Ceph Storage upgrade that launched this week.
One of the main knocks on Ceph storage has been its complexity. Administrators often required special expertise to set up, configure and tune the software-defined storage to meet their performance and scalability needs.
Red Hat prioritized ease of use with its latest Ceph Storage 4 release, which is based on the Nautilus version of open source Ceph storage software. The company claims its new Ansible playbooks-based "cockpit installer" can enable wizard-guided setup in less than 10 minutes. Behind the scenes, the installer also performs hardware checks to ensure that Ceph will run effectively, according to Pete Brey, director of product marketing at Red Hat Storage.
"Before we would go to market and say Ceph will run on any hardware -- and the reality is, yes, it can run on a wide range of industry-standard hardware," Brey said. "But we know very well you have to have a certain amount of memory in the system. You have to have a certain amount of solid-state storage for things like logs. The disks need to be up to par. So, we built in that intelligence into this installer."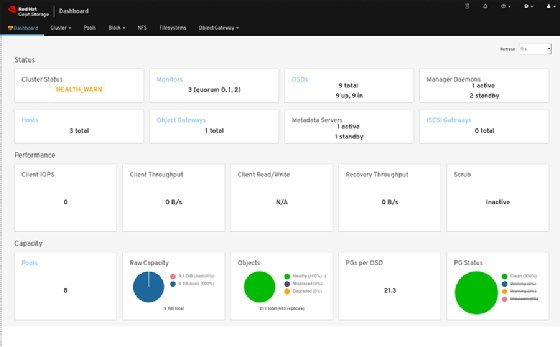 New management dashboard
Red Hat also introduced a new management dashboard, based on OpenAttic open source technology, to give administrators a unified operational view of a Ceph storage cluster and help them spot and resolve problems more quickly. Brey said the Red Hat Ceph management dashboard was "minimal" in the past.
"You don't have to have a degree in distributed systems to set up Ceph anymore," Brey said. "We're bringing it into the realm that ordinary administrators can do these installation and management tasks."
Amita Potnis, a research director in infrastructure systems at IDC, said enterprise and cloud service provider customers often told her they needed "a very technically sound Ceph professional" to fine-tune deployments for specific workloads. Potnis said the changes in Red Hat Ceph Storage 4 would help pave the way for greater adoption and make it easier for users to scale the system.
Although Ceph supports block, file and object storage, it primarily competes against object storage today, according to Potnis. She said block was the initial Ceph focus, and the relatively new CephFS file system will take time to prove itself in the marketplace.
Scott Sinclair, a senior analyst at Enterprise Strategy Group, said open source Ceph generated lots of excitement in the early days, with its potential to dramatically reduce the cost of storage infrastructure. He said he recalled one Ceph user saying he could "just program whatever I want it do."
"It was very capable, but the complexity led to that excitement tapering off," Sinclair said. "Now Red Hat is making strides to address many of those early concerns, and Ceph is far more capable than it ever was."
Sinclair said administrators would now have the new management dashboard and quality-of-service improvements to identify "noisy neighbors" that hog resources. Increased automation capabilities can help administrators monitor stored data and disk health and take steps to mitigate problems.
Improved scalability, performance
The new Red Hat Ceph Storage 4 improves scalability to hundreds of petabytes and doubles object storage performance compared with a year ago, thanks to the faster BlueStore back end and new object storage front end, according to Brey. Other new features include granular permission to enable administrators to delegate work and additional security options, such as FIPS-compliant encryption.
Red Hat also added several certifications with third-party products, including Commvault, Veeam and IBM's Spectrum Protect and Spectrum Protect Plus for data protection. Red Hat Ceph Storage will also run with IBM Spectrum Discover to give users an optional add-on for data mapping, visualization, indexing and custom reports to gain insight from unstructured data. Ceph Storage 4 is the first major release of the product since IBM completed its acquisition of Red Hat.
"The increased focus on simplicity and automation in Red Hat Ceph 4.0 looks to reduce overall management costs and ties in with the enhanced data analytics capabilities of IBM's Spectrum Discover to offer AI-based data classification, indexing and production workflows," said Steven Hill, a senior analyst in applied infrastructure and storage technologies at 451 Research, a division of S&P Global Market Intelligence. "These types of capabilities are increasingly table stakes in the enterprise but can also be powerful services offerings in the service provider market."
Hill said Ceph has a "somewhat stronger" play with service providers today than with enterprises, for whom open source-based products can be a more difficult pitch. He noted that with service providers, the convenience of a single, cost-effective software-defined storage platform for scalable, multi-tenant block, file and object storage on commodity hardware "makes a ton of sense."
Sinclair said ESG is seeing increasing interest in software-defined storage and, more generally, for a cloud-like, software-defined data center architecture. He noted that Ceph is part of Red Hat's large portfolio of products to enable users to address data center challenges.
"Ceph's sweet spot right now is in a digital business, probably in a younger organization with a high level of core competency within application development," Sinclair said. "One of Ceph's strengths has always been the fact that it's very flexible. You can do lots of things with it. As more companies invest in application development, the industry is trending more toward Ceph-like software-defined solutions that offer flexibility."