Guido Vrola - Fotolia
New SoftIron management tool targets Ceph storage complexity
Newcomer SoftIron takes on the likes of Red Hat and SUSE with ARM-based Ceph storage appliance and software that make it easier to scale and manage the hardware.
Startup SoftIron released a new HyperDrive Storage Manager tool that aims to make open source Ceph software-defined storage, and the hardware it runs on, easier to use.
London-based SoftIron designs, builds and assembles dedicated HyperDrive appliances for Ceph software-defined storage at its manufacturing facility in Newark, Calif. Now SoftIron has developed a tool to assist system administrators in managing the software and hardware in their Ceph storage clusters.
"We're integrating it in the way that you would normally only see in a proprietary vendor's storage," said Andrew Moloney, SoftIron's vice president of strategy.
Moloney said the new HyperDrive Storage Manager could automatically discover and deploy new nodes without the user having to resort to the command-line interface. If a drive goes down, the graphical user interface can pinpoint the physical location, and users can see a flashing light next to the drive in the appliance. HyperDrive Storage Manager also can lock out multiple administrators to prevent conflicting commands, Moloney said.
"Many of those things have not been addressed and can't be addressed if you're not looking at the hardware and the software as one entity," Moloney said.
Enrico Signoretti, a research analyst at GigaOm, said one of the biggest problems with Ceph is complexity. The optimized SoftIron software/hardware stack and improved graphical user interface should help to lower the barrier for enterprises to adopt Ceph, Signoretti said.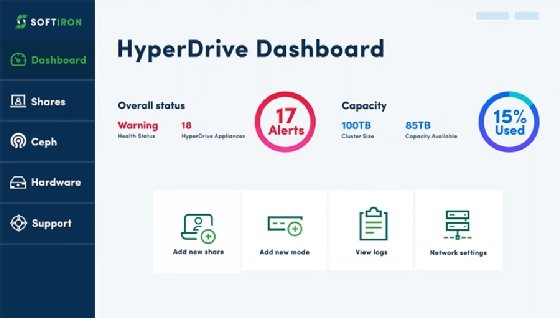 SoftIron started shipping its ARM-based HyperDrive appliances for Ceph about a year ago. Appliances are available in all-flash, all-disk and hybrid configurations. The most popular model is the 120 TB HyperDrive Density Storage Node with spinning disks and solid-state drives, according to Moloney. He said the average deployment is about 1 PB.
SoftIron has about 20 customers using HyperDrive in areas such as high-performance computing, analytics and data-intensive research projects. Customers include the University of Minnesota's Supercomputing Institute, the University of Kentucky, national laboratories, government departments, and financial service firms, Moloney said.
SoftIron's competition includes Ambedded Technology, a Taiwanese company that also makes an ARM-based Ceph Storage Appliance, as well as Red Hat and SUSE, which both offer supported versions of Ceph and tested third-party server hardware options.
Dennis Hahn, principal storage analyst at Omdia, said Red Hat and SUSE tend to focus on enterprise and traditional data centers, and SoftIron could find opportunities with smaller data centers and edge deployments for use cases such as retail, healthcare and industrial automation, with sensors gathering data.
Hahn said customers often look for lower-cost storage with edge use cases, and SoftIron's HyperDrive appliances could play well there, with its AMD's ARM processors that generally cost less than Intel's x86.
Moloney said that Ceph can be "quite hardware sensitive" for anyone trying to get the best performance out of it. Citing an example, he said that SoftIron found it could optimize I/O and dramatically improve performance with an ARM64 processor by directly attaching all 14 storage drives. Moloney said that SoftIron also saw that using an SSD just for journaling and spinning media for storage could boost performance at the "right price point."
Those who assume that software-defined data center technologies -- whether storage, network or compute -- can run great on "any kind of vanilla hardware" will be disappointed, Moloney said.
"In reality, there are big sacrifices that you make when you decide to do that, especially in open source, when you think about performance and efficiency and scalability," Moloney said. "Our mission and our vision is about redefining that software-defined data center. The way we believe to do that is to run open source on what we call task-specific appliances."
In addition HyperDrive storage, SoftIron plans to release a top-of-rack HyperSwitch, based on the open source SONiC network operating system, and a HyperCast transcoding appliance, using open source FFmpeg software for audio and video processing, within the next three months. Moloney said SoftIron is now "hitting the gas" and moving into an expansion phase since receiving $34 million in Series B funding in March, when he joined the company.