DrHitch - Fotolia
SUSE Enterprise Storage 6 targets ease of use, hybrid cloud
SUSE will ship its Ceph-based Enterprise Storage update next month, with management, data protection and cloud integration improvements. Its product roadmap includes containerized Ceph and HCI.
SUSE, which like its main rival, Red Hat, is going through an ownership transition in 2019, improved the data protection and public cloud integration of its Ceph-based enterprise storage software.
SUSE Enterprise Storage 6 is a commercially supported distribution of open source Ceph software-defined storage that supports block, file and object interfaces and runs on commodity server hardware. The Germany-based company is due to release version 6 in June.
Sanjeet Singh, director of storage solutions at SUSE, claimed many customers turned to SUSE when they required support for features that the competition did not yet support. For instance, SUSE supported the CephFS file system before Red Hat did.
The primary use cases for SUSE Enterprise Storage include hybrid cloud workloads, backup, file sync and share, analytics, deep learning, internet of things, and persistent storage for containerized workloads. SUSE's Ceph-based storage distribution was initially available only as part of SUSE OpenStack Cloud. The company released the first version of its dedicated SUSE Enterprise Storage product in 2015.
The list price for SUSE Enterprise Storage is about $3,250 per node, regardless of capacity. Neither Red Hat nor SUSE disclose storage revenue or customer counts. But Larry Morris, a senior storage product manager at SUSE, claimed SUSE's numbers have at least doubled during each of the past several fiscal years.
Steven Hill, a senior analyst at 451 Research, estimated that SUSE-Red Hat customers are split geographically, with U.S.-based Red Hat having an edge in the Americas and SUSE being more popular in the U.K. and the rest of Europe.
"At this point, Red Hat has a somewhat larger portfolio of storage options beyond Ceph, but SUSE was very actively involved in the [Ceph] BlueStore rearchitecture that substantially improved performance and efficiency," Hill wrote in an email. "This year brings both the IBM acquisition of Red Hat and the [venture capital-funded] separation of SUSE from Micro Focus, which should make things a bit more interesting as both companies explore new ownership."
IBM expects to close its $34 billion Red Hat acquisition by the end of 2019. Private equity firm EQP Partners bought SUSE from Micro Focus for $2.5 billion this year.
One key new feature in SUSE Enterprise Storage 6 is a tightly integrated dashboard designed to address Ceph's reputation for being hard to use. The Ceph Dashboard is based on openATTIC technology that SUSE acquired in 2016 from German IT firm it-novum and made available to the Ceph community.
"It really establishes a management paradigm that is very much similar to what storage administrators are familiar with in any other storage system," Morris said. He added that Ceph historically supported a command-line interface, rather than graphical user interface, but "there isn't an enterprise customer today that will use a command line."
SUSE Enterprise Storage 6 will also enable users to set alerts when the system hits certain capacity or performance thresholds. Morris said the system also supports feeding event notifications, via Simple Network Management Protocol traps, into higher-level system management applications.
Another addition in SUSE Enterprise Storage 6 is snapshots for the CephFS distributed file system to go with its snapshots for block and object storage in previous versions.
On the cloud front, SUSE Enterprise Storage 6 adds the ability to automatically synchronize on-premises object data to a public cloud using Amazon's S3 interface. Customers could use the new capability for bursting purposes or to facilitate a hybrid environment spanning on-premises and external sites, Morris said.
The new SUSE storage product also supports the Elasticsearch sync module to manage metadata associated with an object. The system automatically moves the metadata out of objects and puts it into the Elasticsearch module, and customers can then use Logstash or Kibana to efficiently analyze and search it, Morris said.
SUSE storage roadmap
SUSE has laid out a storage product roadmap that includes new capabilities to containerize Ceph software-defined storage and a potential new hyper-converged product packaged with containerized SUSE OpenStack Cloud software. Rival Red Hat already sells a hyper-converged infrastructure product with virtualization and cloud options.
Morris said SUSE has not committed to a timetable for the "true cloud-native" hyper-converged product, but it could trail the container version of SUSE Enterprise Storage by six to nine months.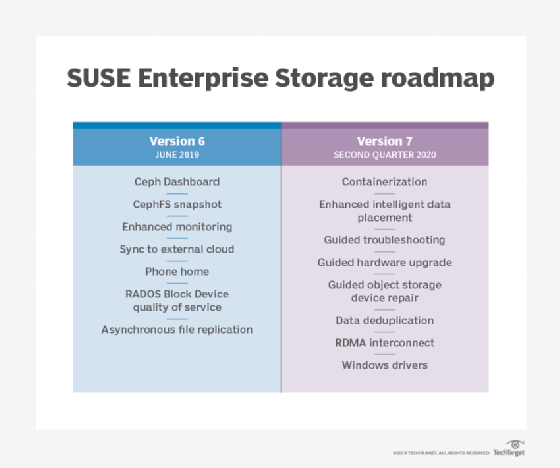 Plans call for SUSE Enterprise Storage 7 to support containerization in the second quarter of 2020, after the open source Rook orchestration layer is production-ready, Morris said. Customers already can use SUSE Enterprise Storage as persistent storage for container-based applications through the Container Storage Interface.
"Our position on containerizing Ceph is we're aligning with the community on when we bring this to market. And the community perspective is that Rook and Ceph [are] not yet ready for production containerized deployment," Morris said.
Red Hat sells a separate OpenShift Container Storage (OCS) product designed to work with its OpenShift Container Platform for building Kubernetes-based applications. Red Hat built OCS on its Gluster storage, but will switch to Ceph with the upcoming OCS 4.2 release.
IDC studies have shown that container adopters show a greater preference for software-defined storage, according to Gary Chen, an IDC research director. He said containerized software-defined storage can be portable and follow portable containerized applications around, whether on premises or in public clouds.
"There's also a lot of opportunities for orchestration, automation, etc., that is possible because it is software-controlled. So, that really fits well with modern container orchestration systems," Chen wrote in an email.