kentoh - Fotolia
Red Hat OpenShift Container Storage to move from Gluster to Ceph
Red Hat's plans to change the core technology in its OpenShift Container Storage from Gluster to Ceph with an upcoming major product release leaves customers with lots of questions.
BOSTON -- Questions are swirling among customers over a pending upgrade of Red Hat's OpenShift Container Storage that will overhaul the core technology a mere two years after the product's debut.
At its annual customer conference, Red Hat aired plans to change the underlying storage technology from file-based Gluster to multiprotocol Ceph. The shift to Ceph will facilitate access to S3-based object storage that can scale to accommodate the enormous quantities of data that newer applications, such as analytics, chargeback, AI and machine learning, generate, said Sudhir Prasad, Red Hat product management director.
Red Hat added iSCSI block and S3 object interfaces to Gluster-based OpenShift Container Storage (OCS) in late 2017, when the product was known as Container-Native Storage. But, Prasad said, the Amazon S3 API support through OpenStack was "not very scalable," and Ceph would give customers a "much more complete platform" of block, file and object storage.
Ease of use, multi-cloud additions
Ceph isn't the only major change coming with the release of OCS 4.2 in August or September. Red Hat also plans to replace the Ansible installer and Heketi Gluster volume manager with open source Rook technology to ease deployments, upgrades and operations. Another new addition is a multi-cloud gateway -- based on NooBaa technology that Red Hat acquired late last year -- to enable persistent storage for container-based applications across hybrid and public clouds through a consistent interface.
Red Hat also outlined the upcoming OCS 4.3 release, expected late this year or early next year, that will give customers a choice of using the built-in Ceph storage in "converged mode" or running in "independent mode" with any storage back end that has a Container Storage Interface driver. OCS would essentially serve as a software layer that facilitates access to multiple storage back ends, including bare-metal servers, legacy systems and public cloud options. Customers could even choose to stick with Red Hat Gluster Storage, although they would need a separate subscription for it.
OCS updates typically coincide with upgrades of the separately sold OpenShift Container Platform (OCP). Although Red Hat released a new OCP 4.0 upgrade this week, OCS 4.0 is available only on an internal basis to Red Hat developers, Prasad said. A 4.1 OCS beta won't be ready for customers to test until June or July, he added.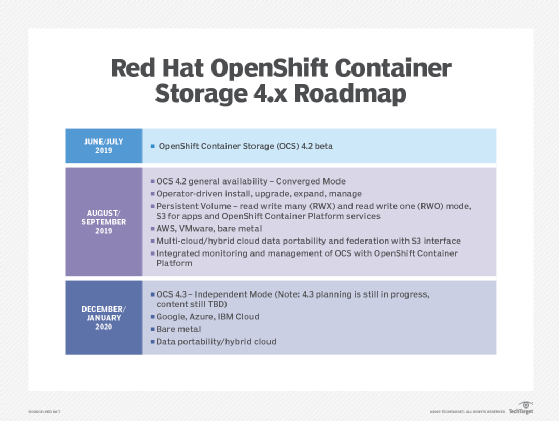 OCS customers are filled with questions
Users and potential customers packed OCS sessions at this week's Red Hat Summit to try to learn more about the upcoming 4.2 product. The migration from Gluster to Ceph, in particular, spurred questions among OCS users.
"Really, I think this is a big problem," said one solution architect for a consulting firm that stores about 10 TB of video in Gluster-based OCS. He asked not to be identified. "With this change from Gluster to Ceph, I do not have the capacity. And what happens with my data? How can I migrate transparently? It's not one terabyte. It's a big bunch of data [for which] I guarantee the integrity."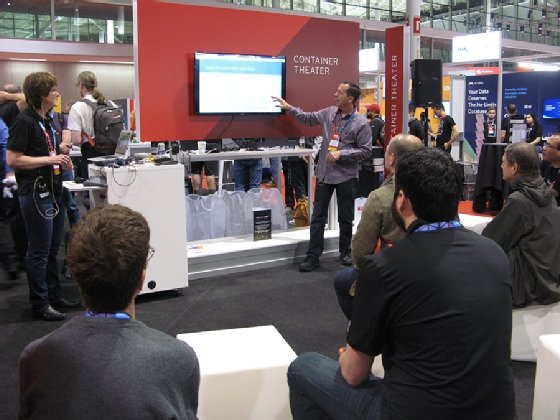 Prasad said a migration tool will be available for customers moving from the 3.x to 4.x releases of OCP, and users can update to OCS in tandem. He said customers won't notice any changes on the front end because their applications can stay the same and consume storage just as they always have. But he acknowledged that existing customers will need to move data from Gluster to Ceph storage on the back end, a task that would be most onerous for customers that store a lot of data in OCS. Prasad said OCS has more than 400 customers, with data stores up to 300 TB.
I'm pleased with the way Gluster works today, and if Ceph can match that, then I'm sure I could handle a migration to it. It's just that we're looking for either the same or better performance.

Zach CarlingIT infrastructure analyst, HM Health Solutions
"We're in a spot now where we could move relatively easily, since we're still pretty light on OpenShift usage," said Zach Carling, IT infrastructure analyst at HM Health Solutions, based in Pittsburgh. "But it would be better to do now than further down the road."
Carling said he doesn't have enough experience with Ceph to know if it will meet his company's needs. HM Health Solutions uses Gluster file storage with two OpenShift deployments.
"I'm pleased with the way Gluster works today, and if Ceph can match that, then I'm sure I could handle a migration to it," Carling said. "It's just that we're looking for either the same or better performance."
A private cloud architect with a financial services firm expressed hope that the migration from Gluster to Ceph won't require a system shutdown, since the team promises zero downtime to customers with its OpenShift deployment. He said his main problem with OCS is that he manually has to reboot a Gluster node to do an OpenShift patch or upgrade. He asked not to be identified.
'Huge improvement' with OCS upgrades
On the plus side, OCS 4 appears to offer a "huge improvement" with upgrades, thanks to the newly added Rook technology, said Ronny Pettersen, operations architect at Evry, an IT service provider based in Oslo, Norway. Another improvement Pettersen noted is that Ceph would enable him to provision a new storage volume when a node is down. Pettersen tested the new OCS release during a lab session at Red Hat Summit.
The greater concern for Evry is pricing. Evry originally bought a three-year Gluster subscription for "container-ready storage" and had to purchase a new subscription to move to the separate Container-Native Storage product, Pettersen said.
"Now, what are we supposed to do? We are going to wait on 3.11 to go to 4.0, because, in 4, we have to do a clean install and Ceph?" Pettersen said. "And what are we going to do now with the three years we already paid for Gluster?"
Prasad said the OCS subscription would stay the same regardless of the version. He said the OCS subscription includes support for upgrades and documentation from version to version, and the same would be true for existing customers moving from OCS 3 to OCS 4.
"The underlying storage is transparent to the customers," Prasad said.
Customers who want to continue using the current Gluster 3.11.2 release can continue to do so. Red Hat even outlined incremental 3.11.3 and 3.11.4 updates during a Red Hat Summit session. The company plans to continue to support OCS 3.11 and OCP 3.11 until June 2022.