GP - Fotolia
Red Hat OpenShift Container Storage seeks to simplify Ceph
Red Hat delayed a major OpenShift Container Storage update to work on simplifying Ceph storage and management; 4.2 update also improves scalability and multi-cloud portability.
The first Red Hat OpenShift Container Storage release to use multiprotocol Ceph rather than the Gluster file system to store application data became generally available this week. The upgrade comes months after the original late-summer target date set by open source specialist Red Hat.
Red Hat -- now owned by IBM -- took extra time to incorporate feedback from OpenShift Container Storage (OCS) beta customers, according to Sudhir Prasad, director of product management in the company's storage and hyper-converged business unit.
The new OCS 4.2 release includes Rook Operator-driven installation, configuration and management so developers won't need special skills to use and manage storage services for Kubernetes-based containerized applications. They indicate the capacity they need, and OCS will provision the available storage for them, Prasad said.
Multi-cloud support
OCS 4.2 also includes multi-cloud support, through the integration of NooBaa gateway technology that Red Hat acquired in late 2018. NooBaa facilitates dynamic provisioning of object storage and gives developers consistent S3 API access regardless of the underlying infrastructure.
Prasad said applications become portable and can run anywhere, and NooBaa abstracts the storage, whether AWS S3 or any other S3-compatible cloud or on-premises object store. OCS 4.2 users can move data between cloud and on-premises systems without having to manually change configuration files, a Red Hat spokesman added.
Customers buy OCS to use with the Red Hat OpenShift Container Platform (OCP), and they can now manage and monitor the storage through the OCP console. Kubernetes-based OCP has more than 1,300 customers, and historically, about 40% to 50% attached to OpenShift Container Storage, a Red Hat spokesman said. OCS had about 400 customers in May 2019, at the time of the Red Hat Summit, according to Prasad.
One critical change for Red Hat OpenShift Container Storage customers is the switch from file-based Gluster to multiprotocol Ceph to better target data-intensive workloads such as artificial intelligence, machine learning and analytics. Prasad said Red Hat wanted to give customers a more complete platform with block, file and object storage that can scale higher than the product's prior OpenStack S3 option. OCS 4.2 can support 5,000 persistent volumes and will support 10,000 in the upcoming 4.3 release, according to Prasad.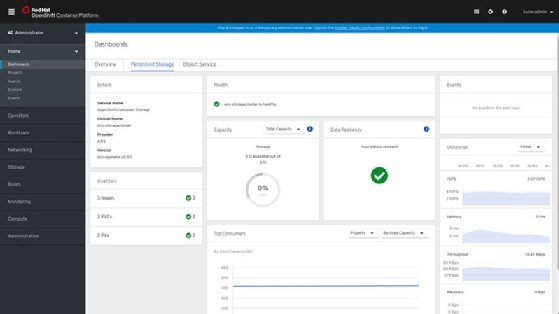 Migration is not simple
Although OCS 4 may offer important advantages, the migration will not be a trivial one for current customers. Red Hat provides a Cluster Application Migration tool to help them move applications and data from OCP 3/OCS 3 to OCP 4/OCS 4 at the same time. Users may need to buy new hardware, unless they can first reduce the number of nodes in their OpenShift cluster and use the nodes they free up, Prasad confirmed.
"It's not that simple. I'll be upfront," Prasad said, commenting on the data migration and shift from Gluster-based OCS to Ceph-backed OCS. "You are moving from OCP 3 to OCP 4 also at the same time. It is work. There is no in-place migration."
One reason that Red Hat put so much emphasis on usability in OCS 4.2 was to abstract away the complexity of Ceph. Prasad said Red Hat got feedback about Ceph being "kind of complicated," so the engineering team focused on simplifying storage through the operator-driven installation, configuration and management.
"We wanted to get into that mode, just like on the cloud, where you can go and double-click on any service," Prasad said. "That took longer than you would have expected. That was the major challenge for us."
OpenShift Container Storage roadmap
The original OpenShift Container Storage 4.x roadmap that Red Hat laid out last May at its annual customer conference called for a beta release in June or July, OCS 4.2 general availability in August or September, and a 4.3 update in December 2019 or January 2020. Prasad said February is the new target for the OCS 4.3 release.
The OpenShift Container Platform 4.3 update became available this week, with new security capabilities such as Federal Information Processing Standard (FIPS)-compliant encryption. Red Hat eventually plans to return to its prior practice of synchronizing new OCP and OCS releases, said Irshad Raihan, the company's director of storage product marketing.
The Red Hat OpenShift Container Storage 4.3 software will focus on giving customers greater flexibility, such as the ability to choose the type of disk they want, and additional hooks to optimize the storage. Prasad said Red Hat might need to push its previously announced bare-metal deployment support from OCS 4.3 to OCS 4.4.
OCS 4.2 supports converged-mode operation, with compute and storage running on the same node or in the same cluster. The future independent mode will let OpenShift use any storage backend that supports the Container Storage Interface. OCS software would facilitate access to the storage, whether it's bare-metal servers, legacy systems or public cloud options.
Alternatives to Red Hat OpenShift Container Storage include software from startups Portworx, StorageOS, and MayaData, according to Henry Baltazar, storage research director at 451 Research. He said many traditional storage vendors have added container plugins to support Kubernetes. The public cloud could appeal to organizations that don't want to buy and manage on-premises systems, Baltazar added.
Baltazar advised Red Hat customers moving from Gluster-based OCS to Ceph-based OCS to keep a backup copy of their data to restore in the event of a problem, as they would with any migration. He said any users who are moving a large data set to public cloud storage needs to factor in network bandwidth and migration time and consider egress changes if they need to bring the data back from the cloud.
Dig Deeper on Storage architecture and strategy