tostphoto - stock.adobe.com
IT company clicks with OpenShift Container Storage snapshots
Red Hat's OpenShift Container Storage 4.6 update brought data protection functionality to the platform, allowing APIS IT to put more critical workloads on it.
APIS IT expects its OpenShift Container Storage usage to grow after the software-defined storage platform's 4.6 update.
APIS IT, a government-owned information and communications technology provider based out of Zagreb, Croatia, is integrating Red Hat OpenShift Container Storage 4.6's container snapshotting capabilities into its primary data protection tool, IBM Spectrum Protect Plus.
The company currently uses OpenShift Container Storage to support applications, management services, Red Hat AMQ, Apache Kafka and some non-mission-critical databases.
Robert Stanko, managing director of IT operations at APIS IT, said the new data protection capabilities in 4.6 allow him to bring more serious, critical workloads onto the platform because he knows he can protect them via Spectrum Protect. APIS IT currently has 5TB of production and non-production data split between two OpenShift Container Storage clusters, but Stanko expects this to grow exponentially.
"From the storage perspective, we finally have the possibility to use OCS for some more serious stateful workloads," Stanko said.
APIS IT is owned by the Government of the Republic of Croatia and the City of Zagreb in a 51-49 split, and implements IT services for Croatia's public sector. Its main clients are the republic's Tax and Customs Administrations. Others include the Ministry of Justice and Public Administration, Central State Office for Development of Digital Society, State Electoral Commission and the city of Zagreb.
We finally have the possibility to use OCS for some more serious stateful workloads.

Robert StankoManaging director of IT operations, APIS IT
APIS IT is also the primary provider for the EU-funded Shared Services Center (SSC) project, a massive government IT cloud slated to finish in 2023. The SSC will consolidate state IT infrastructure and integrate 300 public institutions, offering a digital workplace for all 110,000 employees. Combining the customers of APIS IT and the SSC, the total clientele includes more than 100 public administration bodies.
OCS 4.6 advances data protection
Red Hat OpenShift Container Storage is a software-defined container storage platform. Version 4.6, released last month, introduced several data protection features, including a CSI snapshotting capability for capturing point-in-time snapshots and clones of persistent volumes.
The update also rolled out the OpenShift APIs for Data Protection (OADP) operator, giving backup tools cluster resource context in order to properly restore data to the right namespaces. OpenShift Container Storage's data protection capabilities are certified to work with IBM Spectrum Protect Plus, Kasten K10 and TrilioVault for Kubernetes.
Since APIS IT is already a Spectrum Protect Plus customer, it can extend the data protection software's coverage to containerized applications through OADP. Stanko said this lets him safely containerize more workloads without having to turn to specialized container backup vendors such as Kasten and Trilio.
Randy Kerns, senior analyst at Evaluator Group, said OADP is unique among container management systems. It gives backup software the ability to take snapshots at the persistent volume level, unlocking granular container backup functionality for backup products that don't already have it.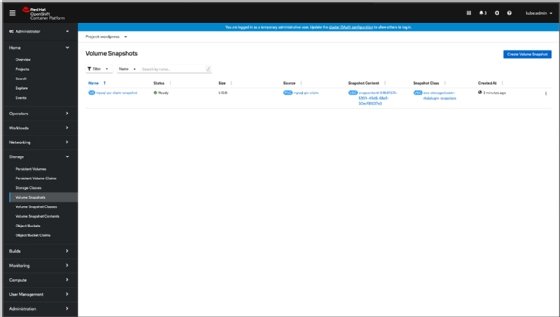 "It will be a big deal for backup software and for enterprise customers that want to stick with a vendor they already utilize," Kerns said.
Red Hat is part of IBM following Big Blue's $34 billion acquisition of the vendor in October 2018. However, the combined company has sought to maintain Red Hat's aura of independence and culture driven by its reliance on open source, while looking for ways to align it with IBM's product set.
To that end, the rationale behind OADP is to enable other data protection vendors rather than compete with them, said Pete Brey, marketing manager at Red Hat. Customers likely already have ways to do snapshots and cloning for their traditional architecture, and they don't want to throw those away when they move workloads to the cloud, Brey said.
OADP enables existing backup ecosystems to integrate with OpenShift Container Storage. Red Hat is working to certify its snapshot capabilities with 12 other data protection vendors, including Commvault.
Brey added that OADP enables customers to build their own automated systems for meeting SLAs, and it's laying the groundwork for more advanced data protection capabilities in the future. Red Hat is currently working on remote site replication for BC/DR use cases, with the promise of other functions to come.
Johnny Yu covers enterprise data protection news for TechTarget's Storage sites SearchDataBackup and SearchDisasterRecovery. Before joining TechTarget in June 2018, he wrote for USA Today's consumer product review site, Reviewed.com.
Dig Deeper on Data backup and recovery software