Host bus adapter (HBA) architecture explained
HBAs are integral pieces of a SAN environment -- they connect the server to the SAN -- but few storage administrators know how to configure them.
[Editor's note: The technical content in this story was updated in March 2015]
Continue Reading This Article
Enjoy this article as well as all of our content, including E-Guides, news, tips and more.
Even though a host bus adapter is integral to effective enterprise data storage, some data storage administrators, when they first hear the term, think it's a type of business degree. But they soon realize they need to be versed in host bus adapter architecture and how host bus adapters can be used to optimize a SAN infrastructure.
What is a host bus adapter (HBA)? An HBA is a hardware device, such as a circuit board or integrated circuit adapter, that provides I/O processing and physical connectivity between a host system, such as a server, and a storage device. The HBA transmits data between the host device and the storage system in a SAN and relieves the host microprocessor of the tasks of storing data and retrieving data. The result? Improved server performance.
HBAs are most commonly used in Fibre Channel (FC) SAN environments and are also used for connecting SCSI and SATA devices. Other types of adapters used with storage systems include iSCSI adapters and converged network adapters, which combine the functionality of an FC HBA and TCP/IP Ethernet network interface card (NIC).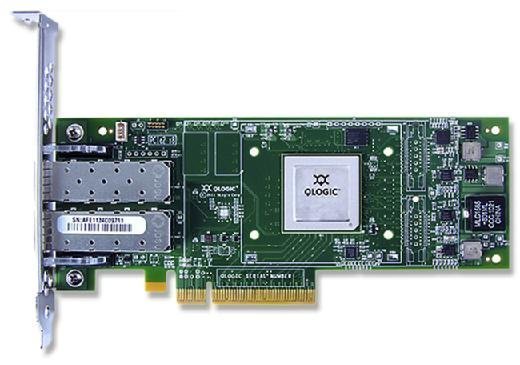 HBAs integral to SANs
HBAs are integral parts of a SAN environment. "Typically, the HBA will be recognized by the SAN management software," said Bob Laliberte, an analyst at Enterprise Strategy Group (ESG). "In order for a server to be provisioned storage, it needs to have a connection to that storage. The HBA is one of the components that need to be configured properly to provide that connection."
When selecting an HBA, storage managers should evaluate features such as performance, reliability, security, power and server virtualization capabilities, said Amit Vashi, vice president (VP) of marketing at HBA provider QLogic Corp. He said another criterion, particularly for enterprises running servers from multiple vendors, is whether a SAN HBA has broad operating system support. Storage managers should look for an HBA card that supports all hardware platforms and operating systems.
Organizations should also select an HBA technology platform that provides a common driver architecture across multiple generations, said Scott McIntyre, VP of customer marketing at HBA vendor Emulex Corp. (Avago Technologies Ltd. announced on Feb. 25, 2015, an agreement to acquire Emulex.) "This ensures seamless management of all the HBAs throughout the SAN, which is critical in data center environments with hundreds or thousands of servers attached to external storage," he said.
Does it make sense to implement HBAs from more than one vendor? According to ESG's Laliberte, standardizing on a single HBA vendor simplifies the management of these devices. "Centralized management in large environments -- think hundreds or thousands of servers, each with multiple HBAs -- is critical," he said. "Trying to upgrade them all, either a patch or software enhancement, can be very difficult. Centralized management software from HBA vendors can help."
HBAs for FC SANs currently support data rates of up to 16 Gbps, but future products will support rates of up to 32 Gbps and potentially higher. "In general, they are getter faster and costs are remaining relatively flat for the increased performance," Laliberte said. "Overall, there is more effort being put into them to make them easier to manage: single console, automated patch and upgrade capabilities." Vendors are also trying to place more intelligence in the HBA for greater manageability, he said.
Virtualization poses challenge to HBA vendors
Today's HBAs must deal with virtualization, particularly when it comes to gaining visibility into virtualized server environments, Laliberte said. Virtualization adds a layer of complexity to HBAs, "because it allows multiple applications to be abstracted. There is no longer a one-to-one relationship with application to server. In many cases, there could be five or more applications on a single server sharing an HBA," he added.
And with the mobility options available in virtualization, applications could actually be migrated from server to server, Laliberte noted, making it more difficult to identify applications that require storage.
In today's virtualized environments, multiple virtual machines(VMs) can be loaded onto a single physical machine with one or two HBAs, Laliberte said. In the past, with a one-to-one (i.e., one application to one server) infrastructure, management tools would associate the HBA to the application manually. But now there can be many applications going through a single HBA card, and the difficulty arises in trying to manage that environment. How do you know where the applications are? N_Port ID Virtualization is a technology in FC environments that enables the HBA to create separate multiple logical ports for the multiple VMs that can then be easily identified as they migrate between servers.
The increasing popularity of server virtualization is driving demand for storage, and that translates into greater need for SAN connectivity solutions, such as HBAs, Emulex's McIntyre said. "We are seeing additional server tiers tapping into SANs because of these trends," he added.
Vendors in the HBA market
The leaders in the HBA market are acknowledged to be QLogic and Emulex. QLogic supplies a range of storage networking products, including Fibre Channel HBAs for standard servers and blade servers, FC switches, FC stackable switches, iSCSI HBAs and single-pane management software. Emulex offers an array of FC HBAs, Ethernet adapters for network and storage, real-time packet capture appliances for network visibility, and OneCommand Manager software for updating and managing the HBAs and NICs, whether they are local or remote.
According to ESG's Laliberte, there's not a lot of difference between QLogic and Emulex HBAs. Both vendors seem to be on almost an identical product development track. The list of vendors making FC HBAs also includes Atto Technology Inc.
Vendors offering SAS HBAs include Atto, Avago Technologies (through its LSI Corp. acquisition) and PMC-Sierra Inc. (through its Adaptec Inc. acquisition). SAS HBAs are typically used for low-cost direct connections between servers and storage and direct-attached storage.
About the author
Bob Violino is a business and technology freelance writer based in Massapequa Park, N.Y. He can be reached at [email protected].
March 2015 technical updates by Carol Sliwa.
Next Steps
How to overcome HBA failure with MPIO
Maintain control over HBA selection
Technology explained: SAS and iSCSI HBA tutorial
HBAs go virtual
Using the NPIV HBA feature
How to display your HBA information
How to list the ports configured on your HBA
Dig Deeper on Primary storage devices