Olivier Le Moal - Fotolia
Broadcom Emulex flashes Gen 7 Fibre Channel adapter for NVMe
Broadcom releases new Emulex Gen 7 Fibre Channel host bus adapter designed for high-performance NVMe-based flash storage systems with support for 32GFC and 64GFC and PCIe 4.0.
With NVMe over Fabrics on the horizon, Broadcom Emulex has launched a faster host bus adapter with Generation 7 Fibre Channel networking technology designed for high-performance flash-based storage systems.
The Broadcom Emulex LPe35000-series host bus adapter (HBA) doubles the bandwidth over prior Gen 6 Fibre Channel (FC) technology. Broadcom and the FC Industry Association refer to Gen 7 products as 32GFC and 64GFC, although the supported line speeds are actually 28.05 Gbps and 57.8 Gbps respectively, before encoding overhead is factored in and lowers the speed a bit more.
The LPe35000 is also the first Broadcom Emulex HBA to support PCI Express (PCIe) 4.0, which doubles the bit transfer rate over PCIe 3.0 technology. Like 64GFC, PCIe 4.0 proves especially helpful in data centers that use performance-enhancing, latency-lowering NVMe over Fibre Channel technology from servers to back-end storage systems.
But support for 64GFC and PCIe 4.0 in the LPe35000 HBA is "future-proofing" at this point. Brandon Hoff, a software architect for the Emulex connectivity division at Broadcom, estimated that 64GFC and PCIe 4.0 would not be available in servers for another 12 to 18 months.
In the meantime, the Gen 7 LPe35000 HBA can enable more than 5 million IOPS and less than 10 microseconds of round-trip latency with storage arrays that use NVMe over 32GFC and PCIe 3.0 technologies, Hoff said. The comparable figures Broadcom listed for Gen 6 FC using NVMe over FC and PCIe 3.0 were 1.6 million IOPS and less than 30 microseconds of round-trip latency.
New hardware fast path technology
"We had to do some re-architecture of the operating system and the driver stacks because it gets really tough to get that many IOPS through a processor," Hoff said. "Before, if I had 100 microseconds latency on a card round trip and then six milliseconds in the driver, we were just a tiny piece of it. With Gen 7, we've added a hardware fast path where all the commands, all the data flow directly through. So, basically we have the same performance as Ethernet or InfiniBand types of products."
The Broadcom Emulex LPe35000 HBA enables NVMe over FC and traditional SCSI commands over the FC protocol to run on the same physical network. Hoff said tests using the same hardware have shown that users can more than double performance by shifting to NVMe over FC rather than using SCSI over FC.
Steven Hill, a senior analyst at 451 Research, expects enterprise customers will use a mix of traditional SCSI over FC and NVMe over FC options with their mission-critical applications. But the growth of AI, machine learning and other forms of high-performance analytics applications could drive demand for Gen 7 HBAs, as more all-flash array vendors adopt NVMe, Hill said.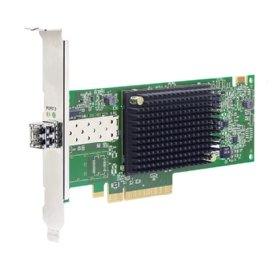 Eric Burgener, a research vice president at IDC., said most performance-sensitive, block-based applications that are the best candidates for NVMe already run on FC SANs. So the Gen 7 FC upgrade would be easy for enterprises that want to get the most benefit from their NVMe investments, Burgener said.
Fibre Channel trends upward
Industry pundits for years have chronicled the decline of Fibre Channel, as they watched many enterprises shift to Ethernet-based storage networking technology. But Hoff said the FC market is on the rise with the growth of mission-critical data and flash array upgrades.
FC revenue grew 12% and FC adapter port shipments increased 13% in the second quarter of 2018 compared to the same quarter in 2017, according to Casey Quillin, a director of market research at Dell'Oro Group. He said the revenue and port shipment levels were the highest since the fourth quarter of 2015. The vendor landscape for FC networking technology includes Broadcom's Brocade and Emulex divisions, Cisco Systems and Cavium's QLogic.
The Broadcom Emulex LPe35000 HBA is available today from distribution partners and from Dell EMC for select PowerEdge servers in single-port, dual-port and quad-port models with 32GFC optics. Customers can later upgrade with a hot-plug 64GFC optics kit. The Emulex XE601 Gen 7 FC controller is available in 32GFC and 64GFC configurations.
Beyond performance-focused updates, Broadcom Emulex also added new capabilities in the Gen 7 LPe35000 HBA to ease storage network operations and management. For instance, customers will be able to upgrade firmware without having to reboot their servers. They can also address network congestion through port trunking that can aggregate four 32GFC physical ports into a single, logical 128GFC port, and at a later date, run four lanes of 64GFC to reach 256GFC.
New security features added with the Gen 7 LPe35000 HBA include firmware authentication embedded into hardware, digitally signed drivers and dynamic port isolation, enabling error diagnosis and problem resolution without impact to traffic on any other HBA ports.
Dig Deeper on Primary storage devices