alex_aldo - Fotolia
Qumulo P-Series packs NVMe into scale-out NAS
Qumulo goes after organizations with large, unstructured data stores that have a new need for speed with its all-flash NVMe P-Series scale-out NAS, which holds up to 24 NVMe SSD drives in a node.
Scale-out NAS vendor Qumulo today began shipping its first all-flash system. The Qumulo P-Series is also its first to use nonvolatile memory express solid-state drives.
Qumulo identified media and entertainment as an early focus for the all-flash system due to the industry's new need for speed for its applications.
The vendor first revealed plans for its P-Series nonvolatile memory express (NVMe) array in late 2017 when it launched its Qumulo File Fabric (QF2) software. QF2 is a scalable file system that can burst compute and perform synchronous cloud replication of unstructured data sets.
The Qumulo P-Series joins the vendor's C-Series hybrid storage that mixes solid-state drives and hard disk drives.
The Qumulo P-Series drives 4 GBps of throughput per node. With a four-node minimum, that means at least 16 GBps per cluster. There are two P-Series models: The P-Series 23 uses 12 1.92 TB NVMe drives for 23 TB of capacity in a node and 92 TB in a four-node cluster; the P-Series 92 has 24 3.84 TB drives for 92 TB of capacity in each node and 368 TB per four-node cluster.
The systems use Intel Skylake SP processors and Intel NVMe drives, and they support 100 Gigabit Ethernet networking.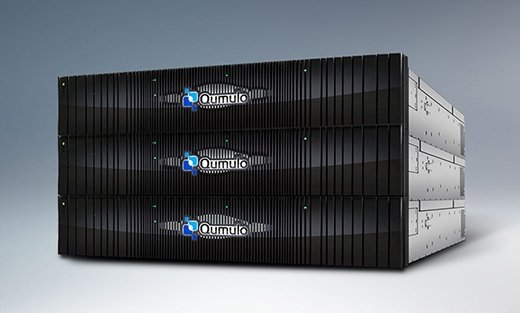 Standard hardware, plus flexibility
Joel Groen, senior product manager at Qumulo, based in Seattle, said QF2 software will write data differently to the NVMe drives than it does for Qumulo's hybrid appliances. On C-Series systems, all writes land on SSDs first and are later expired to hard disk drives based on the software's algorithms. QF2 will not expire data on the single-tier P-Series.
"It's the same software stack; [it's] just configured to run all flash on a box that's made up of all industry-standard components -- but the latest the industry has to offer," Groen said. "Qumulo believes the combination of standard hardware and the ability to adopt and adapt as new hardware comes to market gives our customers a competitive advantage. They don't have to wait for proprietary hardware, which typically lags quarters -- or even years -- behind commodity hardware."
QF2 supports SMB and NFS file protocols and uses a REST API. Its storage management features include capacity quotas, continuous replication and real-time analytics. QF2 can also run in a public cloud as an Elastic Compute Cloud instance on Amazon Web Services and uses its replication to connect all clusters on premises and in the cloud.
Qumulo customers can't mix the NVMe and hybrid nodes in a cluster now, but Groen said that capability is on the vendor's roadmap. The P-Series doesn't support NVMe over Fabrics yet, either, "but that's being researched for the next generation," Groen said.
Qumulo sells C-Series hybrid appliances on its branded hardware through an OEM deal with Hewlett Packard Enterprise. Qumulo and HPE are planning to add an all-NVMe system running QF2 on HPE servers, Groen said, but he did not have a time frame for the release.
Qumulo P-Series will compete with products such as Pure Storage's FlashBlade and Dell EMC Isilon's all-flash NAS systems. FlashBlade and Isilon also target media and entertainment and other industries that deal with large amounts of unstructured data. Both vendors promise NVMe support for those systems.
"We can offer better price performance than Pure and Isilon, because we're not tied to proprietary hardware," Groen said. However, Qumulo does not release its pricing.
The need for speed
Qumulo, whose founders and many of its executives worked at Isilon, has been battling Dell EMC's scale-out NAS system since Qumulo launched in 2015. Groen said the media-and-entertainment market helped push Qumulo to adopt all-flash and NVMe for performance.
Media and entertainment and other scale-out NAS markets used to be more focused on capacity than performance, but the amount of data new technologies use now demands speed, too.
"Customers are pushing us in this direction," Groen said. "We've been seeing use cases for video editing, but for uncompressed 4K video, you really need a high-performance platform."
Other customers have similar performance needs, such those in life sciences and others who deal with billions of small files, Groen said. "We need to get faster. The flexibility of our software allows us to run on the fastest hardware out there," he said.
Not just for storage
Scott Sinclair, senior analyst at Enterprise Strategy Group in Milford, Mass., said the customers Qumulo serves no longer want to just store their data for infrequent access. Now, organizations want to run analytics and search on data to derive maximum business value.
"Cold data is going away," Sinclair said. "Basically, you have two types of data: the data you're accessing and the stuff you should access, but don't know how yet. In the wake of analytics, demand for access to all data is increasing. And you have a lot of unstructured data that is written to via NFS where you want a scale-out file system.
"I know some organizations are rethinking the idea that, 'We have 2 PB of data that no one accesses.' I think everyone who has a multi-petabyte junk drawer of stuff needs to rethink why they're keeping that data. There's a bunch of unstructured data that needs to be accessed, and organizations are figuring out the best way to do that. NVMe-based flash is essentially the way to do that. Qumulo has a solid scale-out file system that will leverage flash."
Pure Storage has developed artificial intelligence as a key use case for NVMe. Pure has partnered with Nvidia to combine high-performance GPUs with FlashBlade into a preconfigured stack called AI-ready infrastructure, or AIRI. That product is designed specifically for data-intensive analytics.
Groen said the Qumulo P-Series will also be used for AI applications. "We're seeing a number of machine learning areas where we expect this to play," he said.