ra2 studio - Fotolia
Qumulo Core File Fabric knits cloud bursting, replication
New Qumulo storage fabric replicates data between local and public cloud storage on AWS. QF2 is the first version of Core that runs in a public cloud.
Qumulo has stitched an integrated storage fabric to its Core scale-out NAS software, giving customers the option to replicate data between its arrays and the Amazon Web Services public cloud.
Seattle-based Qumulo today introduced Qumulo File Fabric (QF2), which it bills as a "universally scalable" file system that enables compute bursting and synchronous cloud replication of distributed data sets.
Qumulo storage fabric targets digital media, life sciences customers
Qumulo Core runs on the startup's QC-Series hybrid arrays and on Hewlett Packard Enterprise Apollo servers through an OEM deal with HPE. The launch of QF2 gives customers the option to buy Qumulo Core directly via the Amazon Marketplace.
Qumulo CTO Peter Godman said QF2 has been in beta tests with life sciences and media and entertainment companies. The fabric allows them to use cloud computing to render images or run analytics, and then rapidly return the results to local storage.
Early Qumulo customers include DreamWorks Animation and the genomics institute at Johns Hopkins University.
"What we haven't had up to now is versions of our product that runs in the public cloud," Godman said. "Think of it as an interconnected file fabric that connects Qumulo Core clusters running in the public cloud with Qumulo clusters running in your on-premises data center. QF2 places data where it's needed, when it's needed."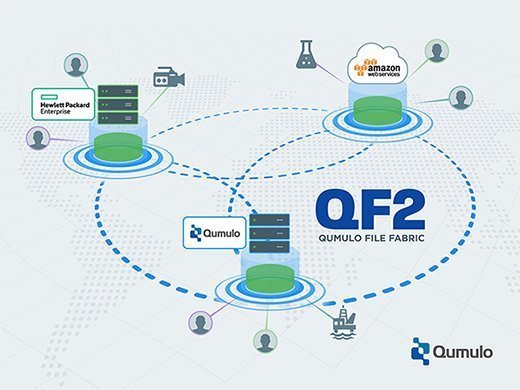 Godman said QF2 storage fabric can handle billions of files. The goal is to give customers the scalability of object storage while supporting file-based applications. File storage vendors typically support cloud tiering, but most lack the ability to allow a front-end workload to operate in the cloud.
"Doing a scale-out file system is not for the faint of heart, which is why there aren't that many true scale-out systems," said Jeff Kato, a senior storage analyst at Taneja Group, based in Hopkinton, Mass. "With QF2, Qumulo is trying to reposition its software-defined file storage to go beyond scale-out NAS."
To augment its storage fabric, the Qumulo software rollout includes a cloud-hosted evaluation service and storage analytics. The "evaluation experience" allows a customer to test Qumulo products for free by projecting part of a data set to a Qumulo AWS instance.
The new Qumulo Trends Service provides cloud-based predictive analytics. It gathers statistics and control information on an enterprise's global Qumulo Core storage to aid capacity planning and pinpoint potential failure points.
Qumulo launched in March 2015 and has grown to nearly 200 employees with more than $130 million in venture funding. Founders Godman, Neal Fachan and Aaron Passey previously helped build Isilon's scale-out NAS, which EMC acquired for $2.25 billion in 2010.
Next Steps
Investors fuel Qumulo Core storage expansion
Qumulo CEO Richter: Fast data always beats slow data
Cloud is beating NAS ... or is NAS beating cloud?