adimas - Fotolia
In-vehicle mobile data storage is Quantum's next target
Quantum Mobile Storage is designed to capture vehicle data from self-driving cars and easily offload it to a Quantum StorNext appliance. It's built to handle harsh, mobile environments.
Quantum is trying to put itself in the driver's seat when it comes to providing storage for autonomous vehicles.
The company disclosed last week Quantum Mobile Storage, a ruggedized, in-vehicle data storage appliance designed to capture the vast amounts of image, video and sensor data produced by self-driving cars. The mobile data storage device automates the offloading of data to StorNext or another Quantum backup appliance when a vehicle returns to a data center.
The device consists of a hardened case that can be fed removable drive magazines. These drives can be swapped out of the chassis as they become full and replaced by empty drives to continue gathering data without having to return to a garage or data center. When testing is over and the vehicle returns to the data center, the drives can be connected to a Quantum backup appliance for automated data ingestion.
Quantum mobile data storage drives will come in three sizes: a 60 TB HDD, a 23 TB SSD and a 46 TB SSD. The chassis and drives will be generally available in early 2019.
Quantum is going after autonomous vehicle developers as customers for its mobile data storage devices. Mark Pastor, data archive product director at Quantum, based in San Jose, Calif., said these customers need a device with low power consumption, a small form factor and, most importantly, enough durability to operate inside a moving vehicle.
"We've got customers getting into tens of petabytes of data or more, and they need a way to cost-effectively retain all that," Pastor said. "They're still finding an ideal way to bridge the gap of getting the data that's being collected in the vehicles into the data center."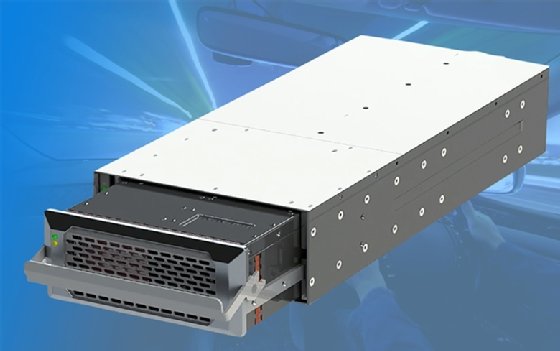 Seamless integration with existing architecture
While hardened storage devices and devices designed for in-vehicle data capture aren't unique, seamless integration with an existing architecture is. Once a mobile data storage drive holding terabytes of test-drive data is inserted into a Quantum appliance, FlexSync automates storing, managing and protecting that data.
The ability to massively ingest and comprehensively tier data has helped Quantum find success in the media and entertainment space. Camberley Bates, an analyst at Evaluator Group in Boulder, Colo., said she sees this as the vendor taking its multimedia capabilities into autonomous cars, which she described as "a market under development, with no clear front-runners today."
Quantum's file system is "well-designed for handling video and images both for high-speed work and long-term retention," Bates said. "They're taking this capability into other markets that are image- or video-related -- thus the autonomous cars."
Pastor similarly described Quantum Mobile Storage as seizing an opportunity to target an underserved market and one in which the vendor already has a foothold. He said he sees other potential use cases for this type of mobile data storage, including trains, buses and military applications.
"We saw that opening. We observed that opportunity," Pastor said. "Quantum can offer the most comprehensive end-to-end storage in these autonomous vehicle environments."
Dig Deeper on Storage system and application software