DrHitch - Fotolia
TrueNAS Enterprise, TrueNAS Core merge as single storage OS
Established as a systems integrator, iXsystems sells open source NAS appliances. A single software code now unifies the TrueNAS Enterprise and TrueNAS Core versions.
Server system maker iXsystems ventured further into enterprise storage with a unified open source file system for its TrueNAS networked appliances.
Up to now, iXsystems offered two open source storage options: FreeNAS and TrueNAS. FreeNAS storage is built atop a stripped-down version of the community-supported FreeBSD file system. TrueNAS runs an enterprise-grade distribution of OpenZFS, based on the Zettabyte File System (ZFS) that originated with Sun Microsystems. Oracle acquired Sun in 2010 for $7.4 billion.
The launch on Tuesday of TrueNAS 12.0 merges FreeNAS 11.3 and TrueNAS 11.3 into a single operating system. The FreeNAS offering is now branded as TrueNAS Core. TrueNAS Enterprise is the new branding for a licensed version of OpenZFS, which is engineered to provide compatibility between FreeBSD and Linux.
The vendor also added the TrueNAS M60 appliance to its M-Series family, along with TrueNAS Mini and Mini+ appliances for storage at the edge.
Extending ZFS data management
TrueNAS Enterprise adds data management features in the form of ZFS Fusion Pools and an L2 persistent adaptive read cache. The pooling mechanism directs metadata and small writes to a tier of SSDs, with large files placed on self-encrypting HDDs. TrueNAS Enterprise caches frequently read data and promotes it to NVMe SSDs.
"Sorting of IO brings a ton of efficiency by using the different storage media to do what they're best at doing. The customer does not have to choose between all flash and disk," iXsystems executive vice president Brett Davis said.
With TrueNAS 12, users have the option to configure encryption by data set and protect it with ZFS ultra-secure replication technology. Other security enhancements enable VPN firewall tunneling between TrueNAS clients and servers, support for third-party key management, role-based access controls, Active Directory/LDAP authentication and TrueNAS security audits via the TrueCommand management pane.
Privately held iXsystems started out selling server hardware in the mid-1990s. It launched its file storage products in 2009 after acquiring the FreeNAS code, which it had originally used in-house on FreeNAS appliances. The company rewrote the code as a pluggable architecture using Python and instituted the Django web-based content management frame with the Dojo JavaScript.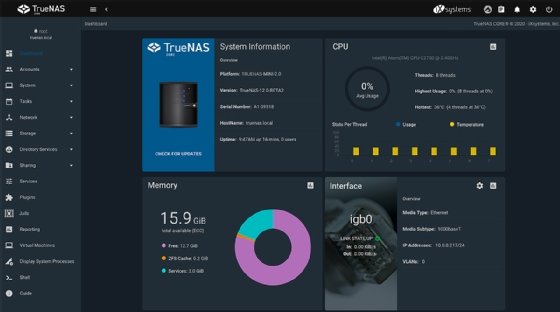 TrueNAS for enterprise data
FreeNAS, now known as TrueNAS Core, is a rackmount system that supports a single controller for use in home offices and remote branch locations. The free license has limited data management features and no direct vendor support.
Dual-controller TrueNAS arrays is designed as high availability system. TrueNAS chassis combines DRAM, disk and flash in 4U. A PCI Express-based nontransparent bridge interconnect enables 64 Gbps data transfer between TrueNAS nodes.
The TrueNAS M60 is the vendor's new flagship array. The system is rated to support 15 GBps up to 1 million IOPS. The M60 is equipped with 64 cores, 1.5 TB of DRAM for non-volatile dual in-line memory modules as a read cache. A rack scales to 4 petabytes (PB) of raw all-flash capacity, with Fusion Pools enabling effective storage up to 20 PB.
Randy Kerns, a storage analyst at Evaluator Group, said it made sense for iXsystems to fold the two operating systems together.
"The crux of the announcement is twofold. They've consolidated to a single, focused NAS offering. That will help them focus their attention on the continued advancement of ZFS. Number two, it will help them continue to promote an open source solution that they also package into a complete appliance," Kerns said.
Scott Sinclair, a senior analyst of storage at Enterprise Strategy Group, said open source products can be intimidating to end users. Sinclair said iXsystems avoided that by packaging ZFS data protection in TrueNAS Enterprise. Sinclair noted how TrueNAS supports block, file and object protocols in a single box, which not every vendor can do.
"They've been quietly forming TrueNAS into a solid, cost-effective system that checks a lot of boxes for people," Sinclair said.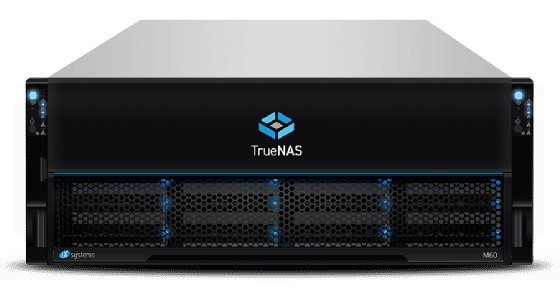 CalTech deployed a FreeNAS array to support researchers at its Division of Geological and Planetary Sciences, before adding a TrueNAS system 18 months ago. The free version was useful for density on noncritical data, said Scott Dungan, a CalTech senior systems administrator.
"We try to get the best performance and reliability at the smallest cost of storage. That's how we started with the FreeNAS. We've been really impressed with it. We added the TrueNAS because we had the budget and we had a project that was a little more critical, and we had the money for it," Dungan said.
"As far the system architecture goes, TrueNAS has more IP addresses and AI interfaces in the hardware. But managing and configuring the two systems is almost identical."