Maksim Samasiuk - Fotolia
Server maker IXsystems sets sail with new TrueNAS flagship
The vendor claims shipments of its storage systems recently surpassed an exabyte of combined capacity. TrueNAS M-Series is a new high-end system with DRAM, NVDIMM and NVMe.
Open source storage vendor IXsystems refreshed its enterprise TrueNAS platform with the addition of NVDIMM cards and NVMe drives to soup up performance.
The TrueNAS M-Series is the successor to the IXsystems high-end Z-Series of hybrid systems combining solid-state drives and hard disk drives. Two 24-drive M-Series models are available. The M40 supports 2 petabytes (PB) of raw storage with two 60-drive expansion shelves. The high-capacity M50 scales to 10.4 PB with 12 expansion units. The M-Series is a high-performance complement to the X10 and X20 systems, which top out at 360 TB and 720 TB of capacity.
Brett Davis, executive vice president of IXsystems, said using nonvolatile dual in-line memory module (NVDIMM) for the write cache provides an orders of magnitude latency reduction.
"The M-Series represents a huge leap forward of our technology. The uptime story on our X-Series is very good, but the M-Series improves on it," Davis said.
M-Series rollout: Multiple tiers, inclusion of NVDIMMs and NVMe
All IXsystems storage runs a distribution of OpenZFS, based on the Zettabyte File System (ZFS) initially developed by Sun Microsystems, on x86-based appliances manufactured by iXsystems. The vendor, based in San Jose, Calif., also sells IXsystems FreeNAS rackmount systems used primarily by home offices and small businesses, and all-flash Z50 TrueFlash appliances on the high end.
TrueNAS combines DRAM, flash and spinning disk in a 4U chassis. Flash is used either as cache or primary storage. Dual controllers enable high availability, with an Intel Xeon Scalable processor and PCI Express-based nontransparent bridge interconnect allowing 64 Gbps of data transfer between nodes.
ZFS incorporates DRAM for file system cache. A TrueNAS M40 appliance uses flash drives to cache reads and writes, or customers can configure it to cache reads on NVDIMM cards. The M50 adds the wrinkle of optional NVMe flash to accelerate reads. The X-Series relies entirely on SSD caching.
"They seem to be able to deliver everything you'd want from an on-premises NAS infrastructure," said George Crump, president of analyst firm Storage Switzerland. "There are three things that are interesting: the way they leverage the right cache, the fact they use open source as the foundation for their code, and support for NAS, iSCSI and object storage in a single box. Not every vendor can do that."
By using its own servers, IXsystems can rapidly implement software-defined storage technologies, said Scott Sinclair, a storage analyst at Enterprise Strategy Group, based in Milford, Mass.
"They can pull in new innovations very quickly. It also shows how quickly the storage world is moving to embrace NVMe. Look at how quickly organizations are jumping on NVMe compared with how long it took them to [adopt] SSDs and all flash," Sinclair said.
Frequent reads are captured in DRAM on TrueNAS. When DRAM is full, TrueOS directs data to L2 adaptive replacement cache memory.
Davis said the TrueNAS upgrade gives customers more flexibility in how they utilize the different tiers.
"We not only leverage flash for cache, but it's optional for customers to add a pool of all-flash storage in front of a pool of spinning disk," Davis said.
The TrueOS applies compression with gzip and a commercially available LZ4 algorithm. Data that can't be compressed more than 12% is skipped to avoid a performance hit. Users have the option of turning off the data services. Davis said IXsystems plans to release its own compression algorithm in future versions of TrueOS.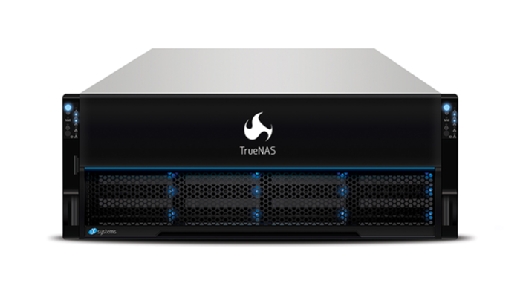 Storage support added as a business line
About 70% of IXsystems storage appliances are custom designed, Davis said. Supported hypervisors include Citrix XenServer, Microsoft Hyper-V, OpenStack and VMware vSphere. The appliances also support Docker, Hadoop, MySQL, Red Hat and Ubuntu.
The company was a spinout of Berkeley Software Design in 2002. Initially, IXsystems specialized in building x86 servers designed to run open source software operating systems. It moved into storage by reselling Dot Hill and Infortrend systems, but customers had to rely on those vendors for support.
The company acquired the FreeNAS code in 2009 and rewrote it as a pluggable architecture. Although FreeNAS is a community-based project, virtually all its code for FreeNAS is written by IXsystems engineers. It also leads the FreeBSD project and contributes code to OpenZFS, FreeBSD and Slackware Linux.