Sergey Nivens - Fotolia
TrueNAS Scale arrays place open source HCI into spotlight
TrueNAS Scale gives iXsystems a foothold in converged systems. Customers can obtain it as open source software or as an integrated system based on TrueNAS storage servers.
Open source vendor iXsystems has tuned TrueNAS storage for scale-out converged infrastructure.
In a move it telegraphed in August, iXsystems this week formally launched the TrueNAS Scale HCI platform. The system packages scale-out OpenZFS storage with x86-based TrueNAS storage servers.
TrueNAS Scale is available as open source software built on Debian Linux, or as an integrated system based on TrueNAS X-Series, M-Series and new R-Series appliances. The R-Series expands the TrueNAS lineup with four models designed for density and performance. For cloud service providers, iXsystems has added managed NAS services and fleet automation via its TrueCommand SaaS management software.
TrueNAS Scale is the second major product advance for the networked file vendor this year. In August, iXsystems consolidated its free and licensed versions in the TrueNAS file system. TrueNAS Enterprise is a licensed version; TrueNAS Core is a free version used mostly by consumers and small businesses. Data can be migrated across different TrueNAS appliance models using the TrueCommand module.
TrueNAS runs enterprise OpenZFS, a variant of the Zettabyte File System developed by Sun Microsystems. Oracle acquired Sun in 2010. The TrueNAS arrays have dual controllers for redundancy and combine DRAM, flash and spinning media. Flash is used for caching or storage. The unified storage systems support block, file and object protocols.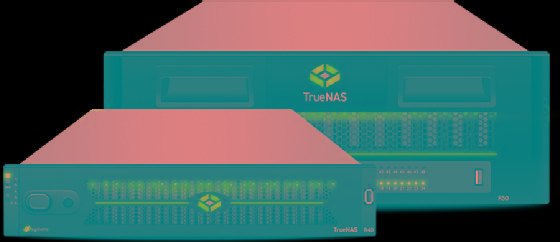 Riding the HCI roller coaster
The arrival of TrueNAS Scale comes at a time of flux in hyper-converged infrastructure (HCI). Early HCI use cases made a comeback of sorts during the pandemic lockdown, especially virtual desktop infrastructure. Still, most companies are transitioning to the cloud to shift Capex spending to Opex. Research firm IDC reported in September that global revenue for converged systems shrank 4.5% last quarter.
HCI systems align networking, server compute and storage together in an integrated appliance, topped with virtualization software. Dell EMC/VMware and Nutanix are the market leaders, experiencing growth from HCI software sales more than HCI storage and server hardware.
Morgan Littlewood, an iXsystems' senior VP of products, called TrueNAS Scale disaggregated architecture that scales compute and storage separately. That makes it more like converged infrastructure, which gives customers a bill of qualified components for purchase, but does not bundle them in a single chassis, as does HCI.
Littlewood said users can start with a single node and scale storage to 100 storage nodes. The active-active configuration supports high availability. TrueNAS Scale supports virtual machines with KVM hypervisor and includes a native Kubernetes stack for Docker containers.
Tim Stammers, a senior research analyst at 451 Research, said iXsystems doesn't need to compete with HCI market leaders. He said about half of TrueNAS customers use it for a combination of use cases, including VDI, hosting backups, security, digital asset management and video surveillance.
"To me, TrueNAS Scale is just as much about making ZFS scale out, as it is about entering the HCI market. In terms of competing with Dell and Nutanix HCI: You don't need to be a Goliath to have a sustainable business. There is still a huge number of storage suppliers with a sustainable business. They'll be able to sell TrueNAS Scale to their existing customers and get a little bit of that business," Stammers said.
For scaling out, TrueNAS runs GlusterFS file system over ZFS. Stammers said fellow open source vendor OSNexus offers a similar scale-out architecture, combining ZFS and Red Hat Ceph storage.
Scott Sinclair, a storage analyst at Enterprise Strategy Group, offered a similar view. With TrueNAS, Sinclair said iXsystems is trying to appeal to data centers that prefer to buy, test and manage their own storage and server hardware. Those customers are especially interested in robust platforms that are priced efficiently and intuitive to manage.
"As much as people talk about being cloud-defined or born in the cloud, organizations often need some type of infrastructure on premises that is capable and cost-effective. They don't want to pay the prices that the legacy vendors charge. They say, 'Just give me a box that does X, Y and Z. That's all I need for my environment.' When I think about TrueNAS, that's the customer they cater to," Sinclair said.
The TrueNAS storage runs MinIO object storage as a native service and its Cloud Sync transfers data to public clouds. TrueNAS services include standard SMB and NFS file sharing and iSCSI block storage services with VMware vCenter and OpenStack APIs. Active-active iSCSI targets are a roadmap item. ZFS provides snapshots and send/receive replication.
The TrueNAS hardware lineup includes the flagship M-Series and 2U X-Series. The new R-Series adds four news hybrid models, starting with the 1U R10 with 128 TB of raw capacity. The 2U R20 and R40 servers scale to 200 TB and 360 TB, respectively. Rounding out the product family is 4U R50 that tops out at 860 TB.