whyframeshot - stock.adobe.com
StorCentric winds down, Nexsan stands out
StorCentric's Chapter 11 bankruptcy filing pushed the storage conglomerate and the companies it acquired into limbo. Now one of those companies might find new footing.
After a bankruptcy filing and a search for new ownership, StorCentric's saga may be ending. Earlier this year, Serene Investment Management acquired StorCentric and has started to break up the storage conglomerate with plans to make primary storage vendor Nexsan its core.
StorCentric, which acquired Nexsan in 2018 with the idea of integrating several backup and storage companies under one umbrella, filed for Chapter 11 bankruptcy in 2022. In February, Serene Investment Management acquired StorCentric and decided to focus on Nexsan's existing customers and storage product line, according to Dan Shimmerman, who was appointed CEO of Nexsan in February. Shimmerman is also the CEO of Blueprint Software Systems and one of the investors at Serene.
"Our intent is to stick to our knitting, reinvigorate the Nexsan brand and discard all the noise that wasn't necessarily on point," Shimmerman said.
Shimmerman said the company is focusing on mid-market customers looking for on-premises data storage rather than cloud or cloud-like operational models.
"There is a lot of goodness in the Nexsan brand that anybody and everybody who's touched it knows," Shimmerman said.
Forgo cloud to save costs
Nexsan works with customers that are solely looking for storage products, such as its E-Series block storage and Unity unified storage, or who are looking to operate on premises, Shimmerman said.
This includes customers amid repatriation efforts as well as those that have large amounts of data in public clouds but are now looking for hybrid cloud set ups as they tighten ballooning cloud costs, according to Marc Staimer, founder and president of Dragon Slayer Consulting, an IT analyst firm based in Beaverton, Ore.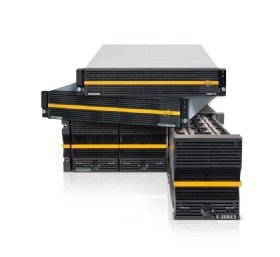 "We're not seeing a lot of repatriation from the small to mid-tier companies. It's mostly enterprise," Staimer said.
Repatriation will result in egress fees, which can be costly, he said. Now companies are writing some new data to storage they control or co-location centers like Equinix, where new data is written locally.
Not every customer wants to spend hundreds of thousands of dollars on a storage system, be it cloud or on premises, according to Dave Raffo, an analyst at Futurum Group. Nexsan's hyperfocus on storage products also means customers can buy what they need without added features that come with bundled subscription packages.
"There is always a market for good, low-priced storage that works," he said.
Nexsan past and present
Founded in 1999, Nexsan currently has over 20,000 customers and 40,000 systems deployed worldwide, according to the company.
The conglomerate StorCentric acquired Nexsan and Drobo in 2018 along with all-flash storage company Violin Systems; all-NVMe storage vendor Vexata; and backup software company Retrospect to integrate them into one. Before completing the integration, StorCentric filed for Chapter 11 bankruptcy.
Our intent is to stick to our knitting, reinvigorate the Nexsan brand and discard all the noise that wasn't necessarily on point.

Dan ShimmermanCEO, Nexsan
Serene was the primary creditor of StorCentric and decided to invest in the assets, seeing potential in both Nexsan and Retrospect, according to Shimmerman. In May, StorCentric, along with Drobo, shifted to Chapter 7 bankruptcy, effectively ending Drobo, a maker of external storage devices.
Despite the Chapter 11 filing, Nexsan continued to serve its customer base, keeping its core line, including its E-Series and Unity, Beast high-performance storage, and Assureon data protection offering. Serene is also offering Retrospect backup software, but that product's future is still yet to be determined, Shimmerman said. Serene declined to comment on the fate of Vexata and Violin.
Nexsan is limited in how it offers its products. It doesn't have a subscription or leasing service, so there is only one way to purchase its products, which is not always how customers are set up, according to Raffo.
"Some companies buy everything as Capex; others buy everything as Opex," he said.
However, SMBs are less likely to buy storage as a service, and this is the market Nexsan is focused on, Raffo said.
Not having consumption, subscription or co-location models may hold Nexsan back from some of their competitors like Dell or Lenovo, but Nexsan isn't starting from zero, according to Staimer. The vendor has a large customer base and several channel partners.
Adam Armstrong is a TechTarget Editorial news writer covering file and block storage hardware, and private clouds. He previously worked at StorageReview.com.