2021 will represent 30 years since the introduction of the first SSD, a 20MB PCMCIA drive designed for laptops. In the three decades since, the SSD market has exploded. 26 exabytes (EB) of PCIe-based SSDs shipped in 2019. SSDs have been a boon for the increasingly performance-hungry applications that fuel the digital economy, reducing latency and spin-up time for both client and server systems compared to traditional HDDs.
Although SSDs started with different form factors (PCMCIA, Add-in cards, 3.5-inch package) there has been a steady migration to 2.5-inch form factors as part of the growth in SSDs. Now, it is time to break free from previous arbitrary standards as we continue to take advantage of what flash has to offer – performance, power, and density that are independent of prior device form factors.
SSD engineers are constantly evaluating design factors – what was lacking in previous designs, how to simplify connectors, what physical shape is best for airflow and cooling – and the result has been a smorgasbord of drive form factors that has left some users, and OEMs, scratching their heads.
Enter the Enterprise & Datacenter SSD Form Factor Working Group (EDSFF), a family of specifications developed by a group of 15 SSD companies, whose goal is to adopt some standards that will simplify system design – and hopefully coalesce around a limited number of form factors that will meet the great majority of system design needs.
For example, every EDSFF drive has certain similarities:
They all use the same protocol (NVMe™)
They all utilize the same interface (PCIe)
Every one of them uses the same edge connector (SFF-TA-1002)
And every connector supports the same pinout and functions (SFF-TA-1009)
However, beyond that there are a huge number of permutations for different classes for drives.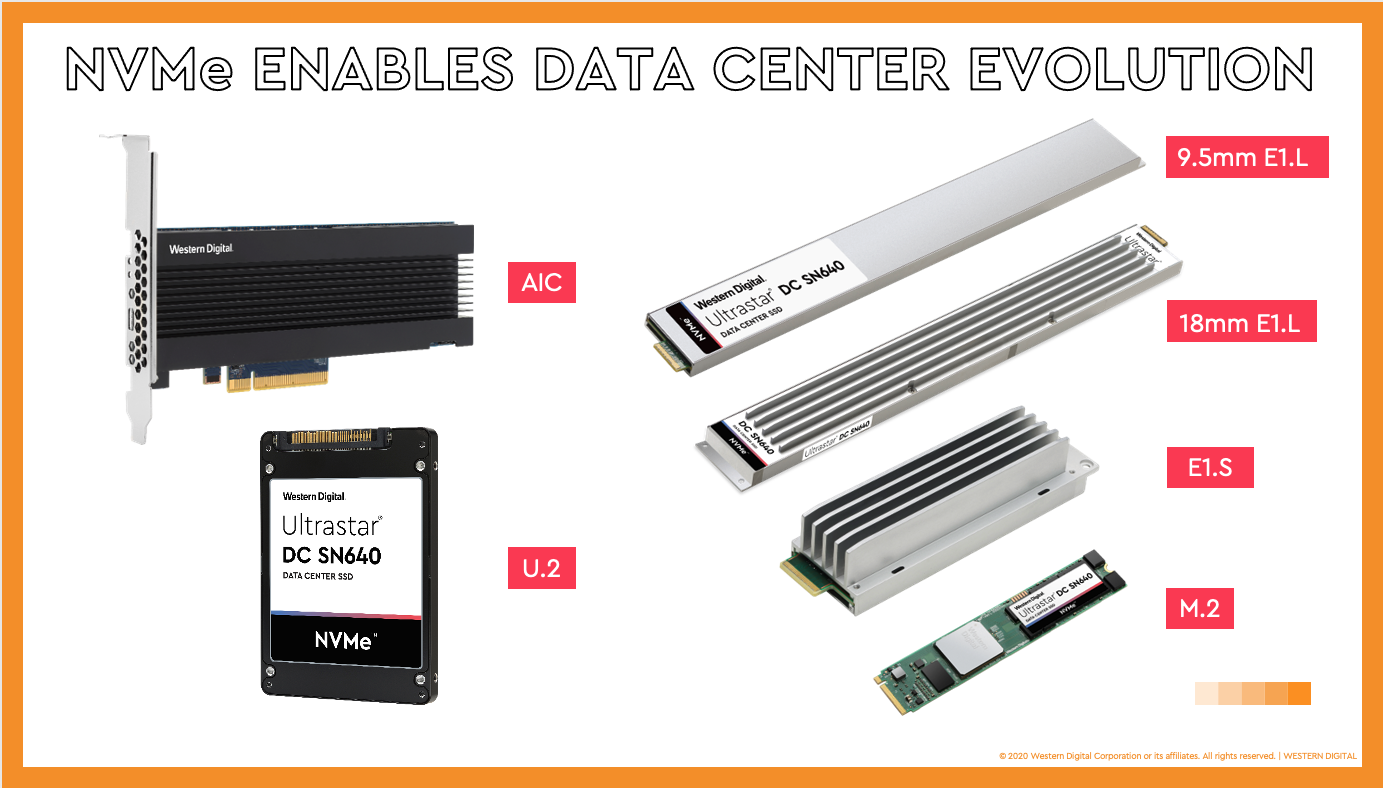 For example, E1.L (EDSFF 1U Long) SSDs look like overgrown rulers, designed for highest density in rackmount servers. Then, there are the E1.S (EDSFF 1U Short) SSDs favored by the hyperscaler crowd along with E.1L. The E.3 (EDSFF 3) is favored for 2U and 4U servers in either horizontal or vertical configurations.
Then there's the M.2 standard – leveraged from laptop designs, the ever-popular 2.5-inch U.2 SSDs that most users think of when they think flash storage (as opposed to 3.5-inch HDDs), and a raft of add-in card (AIC) form factors designed to plug into PCIe expansion slots in low profile, full- and half-length designs. Honestly, it's a dizzying array (no pun intended).
Whether you are designing for hyperscale architecture, a small business data center, or even for deployment in client desktops and laptops, chances are you will have a few key considerations when choosing an SSD form factor – what's the best performance without blowing my thermal envelope, how effective does this form factor utilize the space in my racks, and should I jump to a new design or wait for a clear winning 'new' standard to emerge? Western Digital can help you choose exactly what you need.
Every design situation is different, and enterprises of all sizes can benefit from the advice of the experts who have been designing these drives for decades. Click here to find out about how Western Digital is working to advance standards for tomorrow while meeting every need today.