Top tips for virtual desktop delivery success
Successfully deploying virtual desktops is no easy feat. IT pros shared their stories of adopting virtual desktops in a customer panel at VMworld 2018.
LAS VEGAS -- Virtual desktops can deliver a lot of benefits to organizations that deploy them correctly, but realizing...
Continue Reading This Article
Enjoy this article as well as all of our content, including E-Guides, news, tips and more.
those results is not as simple as plugging something in and turning it on.
Three VDI professionals discussed the ins and outs of virtual desktop delivery in a session at VMworld 2018. Alex Rodriguez, VDI engineer at Rent-A-Center Inc. based in Plano, Texas, and Daniel Thomas, end-user computing architect at Geisinger Health System based in Pennsylvania, use on-premises VDI. David Kendal, IT infrastructure manager at McCoy Global Inc., a data acquisition organization for the drilling industry in Edmonton, Alta., uses desktop as a service (DaaS) through VMware Horizon Cloud.
The speakers touched on the lessons they learned on the virtual desktop delivery journey, the benefits they saw and the importance of user experience.
Overall benefits
Virtual desktop delivery can help IT teams save time in several ways. At Rent-A-Center, those time savings came in the form of faster app deployment.
At Geisinger Health, which has 180 remote sites, it was all about changing from a device-centric management approach to a user-centric one. Before VDI, any time IT had to reimage a device during an OS migration or when something broke, someone had to go to the site to address the problem. Now they can fix desktop problems remotely. And as Thomas and his team transition from Windows 7 to Windows 10, they're realizing major benefits.
"It's hundreds of thousands of dollars [in savings] when we think about the drive time for our desktop support people, the amount of off-hours going to clinics," Thomas said in the session.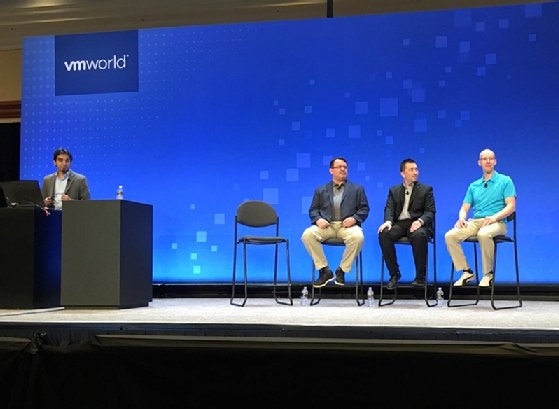 McCoy Global got an added benefit by choosing DaaS because IT does not have to manage the back-end infrastructure.
"It's just a matter of managing a nice, simple, web-based interface when we're creating images, managing pools," Kendal said in the session. "If there's an issue beyond that, we just put it in a ticket with VMware and they manage it."
Michael Lane, systems administrator for Anchorage Neighborhood Health Center, a medical clinic in Anchorage, Alaska, just finished a virtual desktop delivery pilot for VMware virtual desktops. He sees standardization as the primary benefit of VDI.
"We can standardize all our endpoints on this hardware and all our desktops on this gold image level and just add in the apps people need," Lane said in an interview. "The [healthcare] providers don't have to spend as much time on the IT BS that's taking them away from [patients]."
Emphasize user experience
For virtual desktop delivery success, IT must provide a user experience that matches the performance of a physical PC.
Get as much in-house testing in IT done as possible before involving pilot users in the organization.

Michael Lanesystems administrator, Anchorage Neighborhood Health Center
"Connection type, thin clients or zero clients, the protocol you're using, the desktops themselves -- all those things ... can affect performance," Kendal said.
One way to speed things up is to put multiple apps on an app stack and deploy them all at once, Rodriguez said. That approach reduced the log in time from two and a half minutes to 40 seconds.
How users perceive virtual desktops can also have a profound effect on how they react to the technology. Geisinger Health showed nurses a side-by-side comparison with a physical workstation to convince them of the virtual desktop benefits, Thomas said.
Virtual desktop delivery lessons
Endpoints are critical in the overall performance of a virtual desktop deployment. IT should consider what OS they are running and whether they will repurpose existing endpoints, Thomas said.
IT must also understand the application portfolio, including who is using which apps, how much they use those apps and what they use them for. For example, Geisinger Health had a finance app on 3,000 PCs and only 30 people were actually using it, Thomas said.
It's also important to test everything before rolling out virtual desktops, including desktop capacity and stress testing. That was helpful when McCoy Global ran into some storage issues.
"We discovered them early in the process, so we were able [to address] them before we went to production," Kendal said.
Lane agreed on the importance of testing.
"Get as much in-house testing in IT done as possible before involving pilot users in the organization," he said. "There were a few little gotchas that, had we done a little more testing, we could have caught before we started using up someone's time."
Dig Deeper on Virtual and remote desktop strategies