VDI Like a Pro 2018 Survey sneak peek: What's happening in VDI/SBC/DaaS market share?
There's a lot of enthusiasm for the cloud, and the market is wide open.
The results of the VDI Like a Pro 2018 State of the VDI and SBC Union survey are in. The team behind the effort—Ruben Spruijt and Mark Plettenberg—are publishing a white paper on May 16th, and you'll be able to find it at VDILikeAPro.com. (Update, May 29th: The results have been published here.)

In the meantime, they offered me a sneak peek at a few questions. I've been curious to see how the industry buzz around DaaS and cloud-based desktop virtualization would show up in the results, so I asked for data on migration plans and market share.
On-premises plans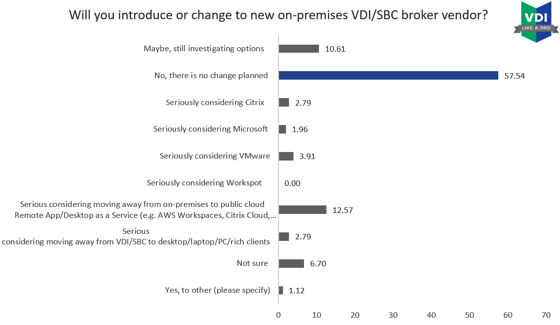 The survey got 752 responses. Overall, the majority (57.54%) are not interested in changing their on-premises VDI/SBC broker, and most almost all will keep some sort of deployment in place. However, we'll see in the next chart that most respondents are interested in public cloud VDI/SBC as well, so clearly many organizations will be using both deployment models.
Cloud interest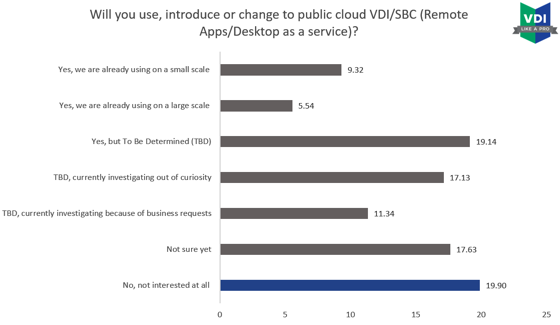 Only 19.9% of respondents are completely ruling out the cloud for VDI/SBC, and 17.63% aren't sure yet. But all the rest (62.47%) are down with it—14.86% of respondents are already the cloud for VDI/SBC, 19.14% are planning to, and another 28.47% are at least investigating.
Competition in the cloud market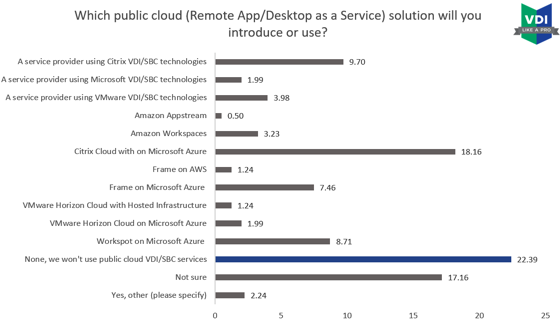 Which offerings are respondents using or interested in? To answer this, I set aside the 22.39% of respondents that don't plan to use public cloud for VDI/SBC, and then recalculated the shares for the represented vendors:
Citrix and Citrix service providers: 35.9%
Workspot: 11.22%
Frame: 11.21% (Disclosure, in case anybody isn't aware: Ruben works for Frame.)
VMware and VMware service providers: 9.29%
Amazon Workspaces and Appstream: 4.81%
Microsoft service providers: 2.56%
Other: 2.89%
Undecided: 22.11%
Really, it's the cloud providers that win, and specifically, Microsoft Azure. 46.8% of the offerings considered directly involve Azure; and certainly, many service providers will be using it, too, pushing its share even higher.
A few quick thoughts
In 2018, DaaS and cloud-based VDI/SBC are gaining more momentum, and the race is wide open.
Citrix will certainly be happy that they have the largest individual share of cloud-based VDI/SBC plans. But the bigger picture is that while they had the majority of the on-premises desktop virtualization market for years, the playing field in the cloud is much more even and they're facing stiff competition from many sides.
While Citrix Synergy is next week, soon we'll be counting down the time until VMworld, talking about their next move with Horizon.
We'll be watching Workspot and Frame closely, as well—as the smaller players, they've clearly done a good job of getting attention in the industry. (Remember that VMware is also reselling Frame as Workspace One App Express.)
Perhaps the most telling data here is the smaller share for Amazon WorkSpaces and Appstream; we'll have to dig into the demographic data to look for more details on behind this.
For now, stay tuned for the full release of the VDI Like a Pro 2018 State of the VDI and SBC Union survey white paper on May 16th—there's a lot more interesting data to analyze, and today I've only scratched the surface. Thanks to Ruben and Mark for sharing the data, and to everyone who participated!
Dig Deeper on Virtual and remote desktop strategies