Survey the desktop and application virtualization market
Organizations want the flexibility to deliver virtual desktops and applications from the same platform. Learn about the products that can do both for your enterprise.
A number of vendors offer products that can deliver either application virtualization or VDI, but only a handful offer both.
Even so, many organizations are looking for the flexibility that comes with deploying both desktop and application virtualization through a single, unified platform.
Citrix
Citrix XenApp is primarily an application virtualization tool, but it also supports session-based virtual desktops. XenDesktop includes all the XenApp functionality, but it also provides a fully scalable VDI platform.
Organizations can deploy XenApp or XenDesktop on premises, with a service provider, on a cloud-based platform or through the Citrix Cloud.
Historically, Citrix has focused on enterprises, but its flexible deployment model now makes it more suitable for organizations of different sizes that want both desktop and application virtualization. For example, enterprises might implement large hybrid systems, midsize businesses might consider Citrix Cloud for more modest platforms and smaller businesses might turn to service providers that specialize in scaled down platforms.
XenApp and XenDesktop are rich in features that deliver virtual desktops and applications to devices running Microsoft Windows, Apple macOS, Linux, Apple iOS and Google Android. With either product, admins can implement Windows, Linux, and web-based and SaaS applications.
Citrix offers three XenApp editions -- Advanced, Enterprise and Platinum -- and three XenDesktop editions -- VDI, Enterprise and Platinum. The most notable difference between the editions is that XenDesktop VDI does not include app publishing features.
Another distinction is that not all the editions support Secure Sockets Layer VPN, which provides secure remote access control, or include AppDNA, which analyzes whether an application is compliant with the Federal Information Processing Standards.
All the editions provide App Layering, a service that separates applications from the underlying OS. They also all support NetScaler Gateway, a mechanism that grants admins granular control over applications and data while enabling users to access services from any location. The HDX technologies that facilitate application and desktop delivery across a wide range of client devices and network connections are common in all six editions, as well.
Citrix offers a 90-day free trial of fully functioning XenApp and XenDesktop editions with support for up to 99 users. Citrix also offers flexible licensing terms based on the size and type of organization.
Although most Citrix products are sold through channel partners, organizations can also license a product directly from Citrix. Licenses are based on the number of users and the edition an organization purchases. For example, a perpetual license for the XenDesktop Enterprise edition is $535 per user, while the subscription fee for the XenDesktop cloud service runs $22.50 per user, per year.
Editor's note
With extensive research into virtual desktop and app virtualization products, TechTarget editors focused this series of articles on vendors with considerable current market share who offer both virtual desktop and app virtualization capabilities. Our research included Gartner and TechTarget surveys.
Ericom
Ericom Software's main product for desktop and application virtualization is Ericom Connect 8.2. Ericom markets Connect as a remote application and desktop access tool rather than simply a virtualization platform. This is in part because Connect uses a distributed grid architecture to facilitate access to hosted Windows and Linux desktops and applications through a highly scalable, centrally managed platform that can support thousands of management servers and up to 100,000 concurrent users per server.
Ericom offers Connect in two editions. The Professional edition targets small and medium-sized businesses, and the Enterprise edition focuses on larger organizations. The Enterprise edition supports a greater number of virtual desktops, applications and concurrent users and includes features such as delegated administration, advanced reporting capabilities and user session shadowing to troubleshoot user connections.
Both editions offer a centralized administration console, monitoring and reporting capabilities, support for multi-tenancy, Active Directory integration, and the ability to use the command-line interface to automate administrative tasks.
In addition, Ericom provides several methods for users to access hosted resources. For example, they can use the AccessPad native client to connect to resources from their devices running Windows, macOS or Linux, or they can use the AccessToGo native app from their devices running iOS or Android. In addition, Ericom offers Access Portal, a client web service that facilitates access through an HTML5 browser running on any device.
For either Connect edition, an organization can download a free 30-day trial that supports up to 50 concurrent users. Ericom also provides an online demo to learn about the product. Buyers should contact Ericom directly for price quotes and details about licensing, maintenance agreements and purchasing. The Ericom website also includes information about resellers.
Huawei
Huawei Technologies Co. Ltd.'s virtualization product, FusionAccess, is a cloud-based platform that runs on the FusionSphere open cloud platform that IT admins can install in their own data center or private cloud. FusionAccess is a single product that provides both desktop and application virtualization.
Admins can centrally manage the platform through FusionManager, a resource administration module that manages physical and virtual compute, network and storage resources.
FusionAccess supports both Windows and Linux virtual desktops and applications. Users can access resources from thin clients or Windows PCs, as well as from iOS or Android mobile devices.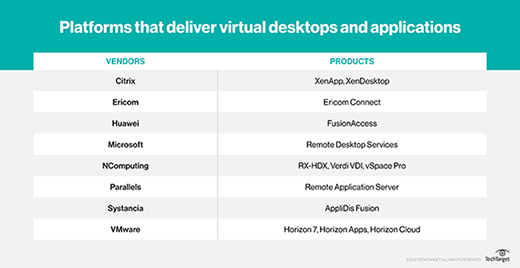 To deliver the desktops and applications, FusionAccess uses the Huawei Desktop Protocol (HDP), a proprietary remote access protocol focused on maximizing the user experience while reducing bandwidth usage. The FusionCloud platform uses HDP as its default protocol.
FusionAccess also uses server-based computing (SBC) to provide on-demand application virtualization and Windows Server shared desktops. SBC isolates users based on sessions while storing profile data on a file server. The SBC component can be useful in simple office scenarios, as well as branch or mobile offices.
Huawei provides three editions of FusionAccess: Standard, SBC Standard and Advanced. The Standard edition includes VDI functionality only. The SBC Standard edition includes SBC functionality only. The Advanced edition offers VDI, SBC and HDP Plus, a high-performing version of HDP that supports high-definition video editing.
FusionAccess targets organizations of all sizes. Buyers can request price quotes and obtain licenses through the Huawei website. They can also find information about Huawei resellers. Huawei offers FusionAccess technical support via email, live chat or its global service hotline. There is also an online forum available.
Microsoft
Remote Desktop Services (RDS) is a virtualization platform included with the Windows Server 2016 Standard and Datacenter editions. The platform provides users with secure access to virtualized resources that IT can deploy on premises or on Microsoft Azure.
Administrators can set up RDS as a session-based system, a VDI system or a combination of both. Regardless of the configuration, RDS supports both desktop and application virtualization via RemoteApps.
Users connect to RDS resources through the Remote Desktop client, which is available for devices running Windows, macOS, Android and iOS.
RDS supports two standard architectures that define the deployment types. A basic deployment contains the minimum number of servers necessary to create an RDS deployment. IT can maximize a highly available deployment to provide users with the greatest amount of uptime. Admins can scale an RDS deployment up or down by increasing or decreasing the number of servers.
With RDS, Microsoft is primarily focused on enterprise-scale implementations. The Windows Server Essentials edition, which is aimed at small businesses with up to 25 users and 50 devices, does not include the RDS features. The Standard edition does include these features, but Microsoft recommends this edition only for low-density or non-virtualized deployments. That leaves the Datacenter edition as the only viable option.
The Windows Server 2016 Datacenter edition, which currently costs $6,155 for a 16-core license, is available through multiple licensing programs, including Volume Licensing, Server and Cloud Enrollment, and Core Infrastructure Server. In addition to the server licensing, each user and device that connects to an RDS session host also needs a per user or per device Client Access License (CAL).
RDS technical support is rolled into Windows Server 2016 support, which includes the Long-Term Servicing Channel and the Semi-Annual Channel. As with Microsoft product licensing, the service models can be somewhat confusing, so buyers should carefully review the details before choosing RDS.
That said, because RDS comes with Windows Server, organizations already supporting Windows Server deployments might be able to use the built-in virtualization capabilities without having to invest in other products as long as they keep the CAL requirements in mind.
NComputing
NComputing Co. Ltd. offers three distinct virtualization products that each serves a specific purpose. The first is the RX-HDX thin client, which has been optimized for XenApp and XenDesktop. The client runs Raspberry Pi 3 and Citrix Receiver 13.8, enabling it to take full advantage of the virtualization features and deployment options available to XenApp and XenDesktop.
The RX-HDX client costs $119 and includes a perpetual license for the Stratodesk NoTouch Center device management platform. IT must acquire all the Citrix licenses separately.
The second NComputing offering is Verde VDI 8.2, a purpose-built VDI tool that targets small to medium-sized enterprises. Verde VDI is a Linux-based, bare-metal platform that runs on Red Hat and CentOS platforms. The product can host Windows and Linux desktops, which users can access from Windows or Linux PCs or approved thin clients, including NComputing clients.
Verde VDI requires concurrent connection licenses, which are available as either perpetual or subscription licenses. For pricing information, buyers should contact NComputing sales or one of the company's resellers.
NComputing's third product is vSpace Pro 11, a session-based virtualization platform for small to medium-sized organizations. Its virtual desktops and applications are hosted on a single Windows Server, with support for up to 100 users connecting from Windows or Google Chromebook devices or from supported thin clients, including NComputing clients. NComputing also offers a Linux version of vSpace Pro based on Ubuntu 14.05 and 16.04.
vSpace Pro is available for free with supported NComputing thin clients, and it comes with a perpetual license. For other clients, pricing is based on the number of peak concurrent users. Buyers should contact NComputing sales or one of the company's resellers for pricing information.
For all its products, NComputing provides basic ticketing and chat support. In addition, NComputing offers dedicated support through its Annual Maintenance Program (AMP), which includes phone support. Buyers should contact NComputing directly for specifics about AMP.
Parallels
Parallels Inc.'s Remote Application Server (RAS) 16 is available as a single edition that delivers both desktop and application virtualization. The product supports on-premises, hybrid and cloud deployments using either AWS or Microsoft Azure. To help streamline administration, RAS provides pretested templates and configuration wizards, as well as a PowerShell API that admins can use to automate management tasks.
Because RAS is hypervisor-agnostic, admins can implement virtual desktops simultaneously on Microsoft Hyper-V, VMware ESXi, Citrix XenServer and other hypervisors. In addition, RAS supports Turbo.net containerization for packaging applications and their dependencies into isolated virtual deployments, making it possible to run multiple versions of an application on the same server.
Although RAS can support smaller organizations, the platform also provides advanced load balancing to accommodate larger enterprise deployments.
In addition, administrators can deploy RAS in conjunction with Active Directory or local Windows security. Parallels provides native clients for Windows, macOS, Linux, Google Chrome OS, Raspberry Pi, iOS and Android. Users can also access published resources from any HTML5 browser.
Parallels has several RAS trial options available. Customers can install a trial version in their data center or take advantage of Trial in a Box, a single VM with RAS already installed and ready to use. Organizations can also test RAS on AWS or Microsoft Azure using a preconfigured trial deployment.
Parallels licenses RAS based on the number of concurrent users at an annual subscription rate of $99.99 per user, per year. Parallels also offers two-year and three-year subscription plans at lower rates. Organizations can purchase RAS licenses directly from Parallels or through one of its partners.
Parallels provides 24/7 phone and email support for all customers. In addition, a forum is available to resolve technical issues.
Systancia
Systancia offers only one virtualization product, AppliDis Fusion 5, which is available as a single edition that delivers both desktop and application virtualization. The platform integrates machine learning and predictive analytics to examine user activity.
AppliDis Fusion also provides administrators with an HTML5 console that offers a 360-degree view of the infrastructure, whether a company is running 10 servers or 100, and it includes a set of technical and system tools that simplify daily management.
AppliDis Fusion runs on Windows Server 2003 through 2016 and is based on a scale-out architecture that utilizes microservices. The platform targets midsize to enterprise-scale organizations, with support for up to 40,000 users per server farm. Users can access their virtual resources from a wide range of client devices, including Windows, Linux, Unix, Mac, iOS and Android.
AppliDis Fusion also offers BoxOnAir, a technology that enables users to access workspace applications from their mobile devices. With this feature enabled, users can essentially carry the applications on their devices until they can pair them with a computer running an HTML5 browser, at which point they can securely access the applications through the browser.
Organizations that want to see AppliDis Fusion in action should contact Systancia to view a live demo or to download a 30-day free trial. For pricing information, buyers should contact Systancia or one of its business partners, which are listed on the Systancia website. Licensing is based on concurrent user connections.
Systancia provides three levels of support -- maintenance contract, expertise contract and 24/7 services contract. The maintenance contract covers basic corrective and ongoing maintenance needs. An expertise contract adds telephone support and technical expertise. A 24/7 services contract provides full-time, dedicated access to Systancia support experts. Buyers should contact Systancia or one of its partners for more details about the support contracts.
VMware
VMware's Horizon product family provides a complete portfolio to offer desktop and application virtualization to a wide range of users. The most prominent of these products is Horizon 7, a complete VDI and virtual application platform that includes a wide range of features, such as Instant Clone, the Blast Extreme display protocol, User Environment Manager, a Skype for Business virtualization pack, ThinApp, vSAN compression and deduplications, and much more.
VMware offers four Horizon editions: Standard, Advanced, Enterprise and Horizon for Linux. Although the editions share several features, along with the underlying platform, there are significant differences between them. For example, only the Enterprise edition includes Instant Clone and User Environment Manager, but all four editions support the Blast Extreme protocol. Horizon 7 targets organizations of all sizes.
Horizon Apps is a relatively new VMware offering that uses Horizon 7 technology to deliver virtual apps and session-based virtual desktops.
VMware offers only two Horizon Apps editions: Standard and Advanced. The editions are more closely aligned than Horizon 7 editions, but there are still differences. For example, only the Advanced edition includes Instant Clone and the Skype for Business virtualization pack. As with Horizon 7, Horizon Apps targets organizations of all sizes.
The final offering in the Horizon family is Horizon Cloud, which delivers virtual desktops and applications as cloud-managed services. Horizon Cloud provides many of the same features as Horizon 7, including App Volumes, Identity Manager and Unified Access Gateway, but it also includes cloud-specific services, such as Horizon Cloud control plane and Horizon Cloud Node.
Horizon Cloud is available as a fully managed service that is part of VMware's hosted services, or IT can implement it on Microsoft Azure. Horizon Cloud is aimed primarily at the enterprise.
VMware provides several options for testing its products. Organizations can download evaluation versions of Horizon 7 and Horizon Apps and run them for 60 days, or they can use VMware's Hands-on Labs, which also include Horizon Cloud. Those who want to try out the service on Azure should visit the VMware website for specifics.
Organizations can purchase Horizon products directly from VMware or through an authorized partner. Prices are based on the edition, product type and license type. For example, the Horizon 7 Enterprise edition currently runs $350 per named user and $575 per concurrent user.
Horizon Cloud is based on monthly subscription rates that vary depending on the subscription length, whether the subscription is prepaid, the license type, the number of desktop and application users, and other variables. For example, a basic 12-month, prepaid subscription for 1,000 named desktop users costs $196,520.
VMware also offers several support options outlined on its website. Buyers should contact VMware directly for specific terms and prices.
Dig Deeper on Virtual desktop delivery tools