Alternatives to Citrix, Microsoft and VMware for remote work
Many organizations will go with remote and virtual desktop services from Citrix, Microsoft and VMware, but there are many alternatives on the market. Check out these 11 vendors.
A while back, I wrote about how the power dynamic at the top of the desktop virtualization landscape has shifted, with Microsoft moving into the driver's seat after years of letting VMware and Citrix duke it out alone.
This, coupled with the global increased demand for remote work and corporate instability at both Citrix and VMware, has led to opportunities for lesser-known desktop virtualization platforms to increase their mind -- and market -- share. While I'm certain that I'm missing a few, let's take a moment to get familiar with the other players in the desktop virtualization and desktop-as-a-service (DaaS) market.
There are some common threads throughout this list:
Customers will have limited options for Microsoft Office when using a non-Azure Virtual Desktop (AVD)-based platform. Office is still available as a perpetual license, and there are other options, such as Dizzion, outlined below. As a Qualified Multitenant Hoster (QMTH), Dizzion is able to deliver Office 365 in a consumption model.
Most, if not all, of these vendors are finding success attracting dissatisfied Citrix, VMware and Microsoft customers, or those that have simpler use cases. Many that I spoke with mentioned that customers would try to use AVD out of the box, only to circle back when they needed some more advanced capabilities. To be clear, this is the way it's always been. Every time Microsoft put out a new version of Remote Desktop Services (RDS), customers wondered if they could finally ditch Citrix, VMware or whomever.
Here is the list, in alphabetical order rather than any ranking or sequence, of the companies covered in this article:
Amazon Workspaces Core.
Cameyo.
Dizzion.
Ericom.
Frame.
HP Anyware (formerly Teradici CAS).
Inuvika.
Leostream.
Nerdio.
Parallels.
Workspot.
There's little doubt that I've left someone out, so if you're in that boat, check out my contact details below and let's chat!
Amazon Workspaces Core
Amazon Workspaces was never really viewed as a compelling option for large enterprise organizations because it represented a sort of shift in approaches and didn't integrate well with existing platforms, requiring a forklift migration. Plus, along the way, customers also had to deal with licensing issues around Microsoft products mentioned above.
Today, that's changing. While Amazon Workspaces still exists with what I think is probably the closest thing to true desktop as a service -- in that I give you a credit card, you give me a desktop -- there are exciting developments happening around a platform called Amazon Workspaces Core.
Released late 2022, Workspaces Core represents a way to integrate your existing VDI environments with AWS, which then lets you locate workloads wherever you want in a true hybrid cloud manner without having to perform a rip-and-replace migration. This approach enables customers to migrate to the cloud at their own pace.
While the licensing challenges still apply if you want to use Microsoft products, not every organization is so Microsoft-dependent that they need to move to Azure, and Amazon -- among other vendors -- is able to offer competitive pricing and services that even the playing field.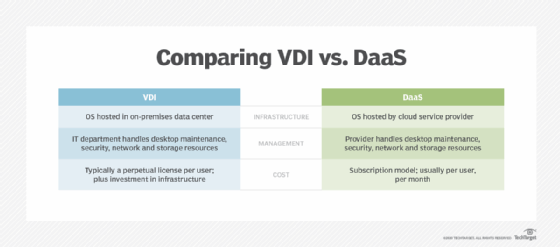 Cameyo
As organizations migrate the low-hanging-fruit Windows apps to a cloud or SaaS service, overall dependency on Windows, "the desktop," is weakening. The reality is that even if we reach some tipping point where we no longer need Windows for its "desktopiness," we're still going to need to run Windows apps. And to run Windows apps, we need some version of Windows.
This is why Cameyo's approach is interesting. They've eschewed the desktop altogether, focusing on delivering remote access to Windows apps -- and only the apps. Users can access apps from any browser, but they also have a tight relationship with Google that lets them integrate Chrome. They can also deliver remote applications as a progressive web app (PWA) so they can run standalone -- kind of like a seamless window -- instead of in a browser tab.
Customers can deploy this on premises on their own, but from what I can tell the real value comes from using Cameyo's managed service. A fully hosted desktop running on Cameyo-managed infrastructure that costs $30 per user, per month includes RDS Client Access Licenses and cloud consumption, and a self-hosted option runs $12 per user, per month. They are growing rapidly and regularly adding features like rapid recovery, failing from on-premises to cloud or cloud to cloud.
Dizzion
Dizzion has been on my radar since at least 2017, and though its roots are that of an MSP focused on business process outsourcing, today it is a full-fledged desktop-as-a-service platform with a global presence. Dizzion uses homegrown technology -- like its Cosmos Control Center (C3) and ZLink, a PC-thin client repurposing tool -- along with deep integrations with partners such as VMware and IBM, to deliver everything customers need to support a remote workforce.
Dizzion has customers from all walks of life -- healthcare, finance, insurance, education and others -- but it excels at business process outsourcing, helping organizations communicate directly with customers via remote, cloud-based workspaces.
Dizzion is also in the unique position of being a Microsoft QMTH, which allows it to sell both Windows and Office 365 licensing on a consumption basis -- something that is not always possible with other providers.
Ericom
Ericom was once a driving force behind HTML5-based access to remote desktops and applications. While Ericom continues to sell desktop virtualization platform PowerTerm WebConnect, HTML5 application access platform AccessNow, and its terminal emulation software, Ericom's focus these days appears to be on its ZTEdge Secure Access Service Edge, Remote Browser Isolation and Web Application Isolation products.
Frame
If you followed Frame's progress through the years, you'll know it came on the scene as a 100% cloud-managed desktop virtualization platform that could deliver graphically intensive workloads to HTML5 browser-based clients. Though its acquisition by Nutanix in 2018 validated its approach to desktop virtualization and the underlying technology, the acquisition had the unintentional and untrue effect of linking the two platforms together. In reality, Frame lets you deploy desktops from anywhere -- on premises or in the cloud -- using Nutanix, AWS, Azure or Google Cloud Platform.
Frame's focus revolves around simple, browser-based access to Windows desktops and applications using their custom-made, WebRTC-based protocol that requires no plugins or clients. Since it has been a cloud-based platform from day one, deployment is designed to be as streamlined as possible. The platform supports delivering packages as PWAs, and -- along with Citrix, VMware and Cameyo -- is among the only four Chrome Enterprise Recommended partners.
Frame is constantly adding new features, like browser-based single sign-on with support for Active Directory-joined VMs, backup and recovery, and support for Google Cloud Platform. Plus, it is one of the few companies that can direct you to a live customer environment any time it wants: Build-A-Bear Workshop. If you want to see how Frame helped Build-A-Bear customers design bears during the COVID-19 lockdown, check out its 3D Workshop.
HP Anyware (formerly Teradici CAS)
Teradici built a reputation for meeting the demands of organizations that operate highly accurate, graphically intense workloads, such as those you'd find in engineering, military and broadcasting. In fact, Teradici won an Engineering Emmy for their efforts in broadcasting and media production.
Prior to the acquisition, HP was no stranger to these fields, having operated the Remote Graphics Software (RGS) product for many years. Adding Teradici and its PC-over-IP protocol allows HP to continue to service those use cases while also adding a mature desktop virtualization platform to support hybrid work for a broader range of users. Of course, it also blends nicely with HP's thin client business.
Inuvika
While new to me and most folks in North America, Inuvika has seen much of its business come from South America and South Africa, where it's had success with education, government and telecom organizations. Based on a hypervisor-agnostic, fully Linux back end that can be deployed on premises or in the cloud, Inuvika is a low-cost alternative to other more traditional platforms that organizations can choose.
The vendor has web-based management that aims to be simple enough, so that organizations with little IT staff or experience can still stand up and deliver a remote desktop environment. The product has some built-in app and profile management capabilities, and everything is session-based, so there's no VDI. You can still publish desktops.
Leostream
There's a world beyond RDP, HDX and Blast Extreme -- one with protocol names that seem otherworldly, like RGS, TGX, Scyld, NICE DCV and NX. This is the world that Leostream lives in, and it's where this vendor has existed for nearly 20 years.
It's entirely likely that you haven't heard of Leostream, especially if you're a dedicated Citrix or VMware Horizon customer. Where VMware, Citrix and Microsoft are focused on the 80% of users out there in the world, Leostream is the virtual desktop and app broker for everyone else. Leostream is completely agnostic, a trait that lets it add a fourth "any" to their list: any desktop or app, to any user, on any device, with any protocol. It also helps with image provisioning and has integrations with cloud providers, VMware and OpenStack.
Leostream customers are often high tech or have demanding workloads with specialized remote graphics needs, like oil and gas, finance, engineering, multimedia, computer-aided design, computer-aided manufacturing and more. In some situations, the use case is more about remote access to high performance physical workstations than it is centralized desktops and apps. As you can imagine, the pandemic proved to be a big deal for Leostream, especially in media and broadcasting. Leostream even won an Emmy in 2022 for its work in creating secure remote production environments. That's two Emmys on this list, if you're keeping score.
Nerdio
Nerdio is interesting because, while most of the other vendors on this list have a platform that they've built more or less from scratch, Nerdio has hitched its wagon to Azure Virtual Desktop. The vendor has built two offerings that are effectively a comprehensive set of advanced tools that can be used by customers or MSPs to more effectively deliver AVD-based desktops and applications. Don't let the fact that this is built on AVD fool you; Nerdio has been around for a long time as a DaaS provider and MSP, with roots that date back to 2010 and beyond.
Nerdio Manager for Enterprise can simplify the management and deployment of AVD environments, so customers don't need to be Azure experts. Plus, it can optimize storage and resource consumption to lower Azure consumption costs. Essentially, it's the middle ground between native AVD and a separate platform.
This is working for Nerdio, but it does put the vendor in a risky position if Microsoft were to develop the same functionality that Nerdio offers. The pressure, then, is on Nerdio to continue innovating, and with a recently closed round of funding, I expect Nerdio to continue its growth.
Parallels
Parallels, known equally for the desktop virtualization and their macOS-based client hypervisor that lets you run Windows, Linux, macOS or other OSes as virtual machines on Macs, has been going through some changes over the last few years. First, Parallels was acquired by Corel in 2018 -- yes, the same Corel of CorelDraw, WordPerfect, PaintShop Pro fame. In 2022, Corel changed its name to Alludo -- pronounced ah-loo-doh although the name originates from text-speak "All U Do" -- but the respective product line names under the Alludo umbrella remain the same.
Parallels has seen growth over the past few years helping AVD customers configure their environments without having to touch the Azure portal. By using Parallels RAS with on-premises and AVD-based workloads, customers have been able to stand up hybrid environments rather than migrating lock, stock and barrel from one platform to another. They offer autoscaling, simplified management, support for managing MSIX app attach and FSLogix configuration, and more. Plus, it has a very simple licensing model: just one fixed price per concurrent user, per year that gets you everything Parallels offers.
Workspot
Among the longest-tenured companies in this list, Workspot has built their own platform from the ground up to deliver a managed service for customers. This is especially true for those that tried to do it on their own in the early days of the pandemic and now need to make their desktop virtualization practices more sustainable from a cost and efficiency perspective. Workspot has been particularly successful helping customers with GPU-intensive workloads such as architectural, engineering and construction.
Many Azure customers are familiar with the challenge of finding providers that they can use to burn down their Azure credits. Workspot shines in this area with a flexible pricing model where customers have the option to pay Workspot directly for all costs -- Workspot and cloud consumption -- or to separate the Workspot and Azure bills so that customers can use their Azure credits.
Conclusion
Each of the products listed here is positioned for growth in the near future, both because of disruption at the top end of the market and because of the overall growth of desktop virtualization usage in organizations. With Citrix's dust hopefully settling and VMware's just kicking up, most eyes are on Microsoft. Despite its rise to the top, there are always opportunities to extend, optimize or outright compete that will leave the window open for one or more of these platforms to ascend to that upper tier.
Gabe Knuth is the End User Computing Analyst for TechTarget's Enterprise Strategy Group. He writes publicly for TechTarget in addition to his analyst work. If you'd like to reach out, see his profile on LinkedIn or send an email to [email protected].