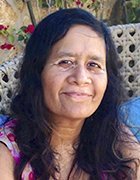 Sudha Jamthe is the CEO of IoT Disruptions and instructor of the Stanford CSP IoT Business Course. She is the author of The Internet of Things Business Primer and IoT Disruptions 2020, focusing on innovations at the junction of IoT and AI. As a technology futurist, she shares her research of IoT, AI and healthcare in Techcrunch, Huffington Post, iotdisruptions.com and hosts the "The IoT Show" on YouTube. She has operationalized growth in Consumer Web, Social, Mobile at eBay, PayPal and Harcourt.
Sudha loves shaping new technology ecosystems, helping businesses drive digital transformation, championing STEM programs and mentoring and developing leaders. She is on the Strategic Advisory Board of Barcelona Technology School. She has an MBA from Boston University.
RT @TopherSpiro: There will be a massive human chain at the U.S. Capitol on WEDNESDAY AT 5PM. Mark your calendar and please RT. Details coming soon.
3:22 AM - 27 Jun 17
Sudha Jamthe's Most Recent Content