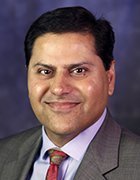 Tejas Vashi
Senior Director, Product Strategy & Marketing, Learning@Cisco -
Cisco Services -
With over 24 years of sales, marketing, product management and technical experience within the communications industry, Tejas Vashi is currently senior director, product strategy and marketing for Learning@Cisco, within Cisco's Services organization.
In this role, Tejas leads the product management team responsible for building and maintaining the comprehensive product portfolio strategy, establishing cross-company alignment and developing strategic industry partnerships aimed at redefining talent enablement for today's digitized world. Through the IoT Talent Consortium, Tejas is helping create new industry benchmarks in global learning and certifications that will keep pace with the industry's evolving job roles.
As head of marketing, Tejas is also responsible for the business development, customer acquisition, industry alignment and the community strategy for the Learning@Cisco organization. Currently, he is establishing a new $1B+ collaborative knowledge services practice through the recruitment and transformation of traditional enterprise buying centers.
Tejas Vashi's Most Recent Content