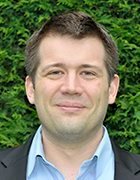 Aapo Markkanen
Principal Analyst -
Machina Research -
Aapo Markkanen is a Principal Analyst at Machina Research, where he studies various market and technology issues that will pave the way for, and shape up, tomorrow's connected enterprise. He has a particular research interest in low-power communication technologies (including LPWA networks and competing mesh-based alternatives), the evolution of IoT security, as well as fog/edge computing and the associated IoT gateways.
Before joining Machina Research, Aapo worked as a Principal Analyst at ABI Research, where he led various research activities related to M2M, the Internet of Things and big data.
Aapo holds BSc and MSc degrees in management studies from the University of Tampere, Finland.
Aapo Markkanen's Most Recent Content