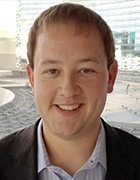 Adam Justice
Vice President -
Grid Connect Inc. -
Adam Justice is vice president and general manager of Grid Connect, a manufacturer and distributor of networking products and wireless sensors. He is responsible for developing the vision for the ConnectSense consumer product line, a group of wireless products steeped in the technology of the internet of things. This includes a family of sensors that monitor your home and notify you when something goes awry. The latest ConnectSense product is a Wi-Fi connected Smart Outlet, one of the first Apple HomeKit-enabled products.
Adam is an expert on the internet of things and has spoken on the topic at many conferences across the nation, including SXSW, IoT Influencers Summit and Internet of Things World.
Adam started his career at Accenture where he was a consultant working on systems and IT projects for a number of Fortune 500 companies throughout the country. Adam left Accenture in 2009 to join Grid Connect.
Adam earned a bachelor's degree in Informatics from Indiana University, and has dedicated himself to analyzing and innovating in the arena of networking products.