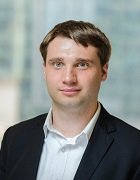 Alexander Drabek is a senior security consultant and a key member of the technical team at 2|SEC with a diverse set of skills and interests in intrusion detection, digital forensics and steganography.
He typically works on infrastructure and web application penetration testing projects as well as leading the team of testers. He holds a CREST registered tester certification and is working towards full CREST infrastructure tester certification as well as becoming a certified information systems security professional (CISSP).
Drabek graduated with a first-class honours in computer security and Forensics from the University of Bedfordshire.
Alexander Drabek's Most Recent Content