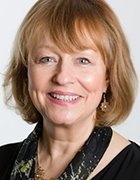 Amanda Finch has specialised in information security management since 1991.
In addition to her role as general manager of the Institute of Information Security Professionals (IISP), she works with the Information Security Forum (ISF) and the British Computer Society (BCS) to gain recognition for the discipline as a recognised profession.
Amanda has a Master's degree in information security, is a full and founder member of the IISP and a Fellow of the BCS.
She spent 28 years working at Marks and Spencer Plc in information security and in 2007 she was awarded European Chief Information Security Officer of the year by SC Magazine.
Amanda Finch's Most Recent Content