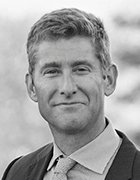 A large portion of Mr. Bennett's professional experience has been shaped by leading teams that are focused on the integration of software and hardware, often described as IT/OT convergence. From a grid perspective, a great deal of that time has been spent on large-scale smart grid projects, essentially connecting field devices with SCADA and DMS software. More recently, much of his time has been devoted to driving growth through the combination of process automation and electrification for customers in multiple energy-intensive segments.
Today, Mr. Bennett's primary focus is on broadening the foundation of Schneider Electric's EcoStruxure platform. EcoStruxure is an IoT-enabled open and interoperable system architecture designed to deliver enhanced value around safety, reliability, efficiency, sustainability and connectivity for customers.
In Andy's previous role of SVP of strategic accounts and solutions, he had responsibility for driving growth in focused accounts for Schneider Electric's major segments including oil and gas, utilities, data centers, healthcare, WWW, food and beverage, automotive, as well as North American microgrid activity. Those accounts represent approximately 1.5 billion in annual turnover. Additionally, Andy held the responsibility for the North American solution and execution centers where SE's complex engineering is executed.
Prior to that role, Andy had responsibility for the U.S. energy business that was focused on medium-voltage offers. Before taking on these roles for Schneider Electric, Andy oversaw the management of Telvent Miner & Miner, as well as the Telvent Electric Utility Group, which includes the SCADA, RTU and smart grid initiatives. In 2011, Telvent was acquired by Schneider Electric.
Andy holds a BS in hydrogeology from Lehigh University as well as a MS in chemistry from Stonybrook.
Andrew Bennett's Most Recent Content