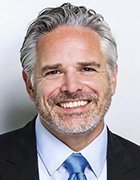 Andrew Morawski was recently appointed as president of the Americas region, as well as the country chairman for Vodafone US, responsible for the compliance, governance and integration of all Vodafone entities that operate in the Americas. He also oversees Vodafone's global enterprise customers headquartered in the region. In addition to these responsibilities, Andrew is president and chairman of the Vodafone Americas Foundation.
Andrew joined Vodafone in 2012 as head of internet of things in the Americas, responsible for leading Vodafone's IoT sales, strategy and operational initiatives in North and South America. His key area of focus was the application of IoT technologies to enable creative new business models to drive growth in both established and emerging markets.
Andrew brings a wealth of experience in the global telecommunications industry to the role. Prior to Vodafone, Andrew spent three years with Cable & Wireless Worldwide as managing director for the Americas. In this role, Andrew had overall commercial and strategic responsibility for the company's enterprise and carrier sales, marketing, HR and service delivery operations in the region. Earlier in his career, Andrew worked for Telstra for over a decade in multiple roles including president and CEO of Telstra Inc, leading the Americas region for Telstra International. Andrew has also held senior management roles with organizations such as Nortel where he managed the relationship between Nortel and SBC through the acquisition of Pacific Bell and SNET. He has also worked as director of sales operations and regional vice president of sales for Prism Communications as well as holding sales and management positions with Nynex Meridian Systems.