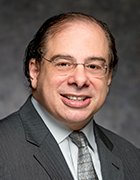 Anthony Scriffignano, Ph.D.
Chief Data Scientist -
Dun & Bradstreet -
Anthony Scriffignano, Ph.D., is senior vice president and chief data scientist at Dun & Bradstreet. Scriffignano is an internationally recognized data scientist with more than 35 years of experience in multiple industries and enterprise domains. He has an extensive background in anomaly detection, computational linguistics and advanced inferential algorithms and is the primary inventor on multiple patents worldwide in those areas. He was recognized as the U.S. Chief Data Officer of the Year 2018 by the CDO Club, the world's largest community of C-suite digital and data leaders.
Scriffignano is routinely invited to provide thought leadership to senior executives and high-level government officials globally. For example, he has briefed the U.S. National Security Telecommunications Advisory Committee and contributed to three separate NSTAC reports to the president on big data analytics, a strategic vision for emerging technologies and internet and communications resilience.
Additionally, Scriffignano has provided expert advice on private-sector chief data officers to a group of state CDOs and the White House Office of Science and Technology Policy, as well as members of the Canadian government. He serves on various advisory committees in government, the private sector and academia, and he also has been a forum panelist and keynote speaker at the World Internet Conference in China and other major events around the world.
Anthony Scriffignano, Ph.D.'s Most Recent Content