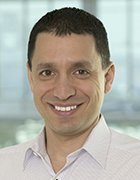 Asaf Ashkenazi
Vice President, IoT Security Products, Rambus
Asaf Ashkenazi is a vice president for IoT security products at Rambus Security division. In this role, Asaf is responsible for the product definition, strategy and marketing of Rambus IoT security products.
Asaf brings more than 15 years of security experience to the organization, spanning product management, business development and various engineering roles throughout his career. Prior to joining Rambus, Asaf oversaw product management for all of the security products at Qualcomm Technologies Inc. Asaf began his career at Motorola Semiconductor where he developed hardware security modules. Previously, Asaf served as chief security architect at Freescale Semiconductor (now NXP), and has served as board member of the FIDO Alliance.
Asaf holds a bachelor of science in electrical engineering from Ben-Gurion University of the Negev, Israel, and has been granted 10 U.S. patents for security architectures and solutions.
Asaf Ashkenazi's Most Recent Content