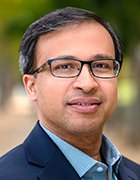 Ashish Agrawal
CTO and Vice President of Engineering -
ServiceMax -
Ashish Agrawal is the CTO and vice president of engineering at ServiceMax. In his role, Ashish oversees product development and leads a talented global engineering team with agile methodologies to build innovative, high-quality and world-class products. Ashish also collaborates closely with product management and design on product definition. He helps define ServiceMax's technical product vision.
Ashish brings nearly 20 years of experience in enterprise software working in CRM, content management, capture and eDiscovery domains. In his prior role at GE Digital, Ashish led GE Digital's Asset Performance Management and Application Foundation product development organizations, overseeing a global team of 250 engineers and helping launch the combined product with a trajectory of $80 to $90 million in two years. Before GE, Ashish was with EMC Corporation as head of capture engineering, where he led the transition of the company's on-premise capture product suite to a SaaS-based cloud offering. Ashish was also responsible for the SaaS platform team aiding the delivery of the first EMC Documentum SaaS solution built on next-generation cloud-based platform. Earlier in his career, Ashish held leadership positions at Oracle and Siebel.
Ashish holds a master's degree in computer science from University of Southern California and a bachelor's degree in electronics engineering from Mumbai University.