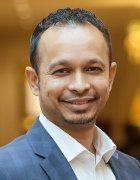 Athani is co-founder and chief strategy officer at ServiceMax Inc. In this role, Athani is responsible for creating, communicating and executing strategic initiatives around growth and innovation, and creating strategic alignment behind the vision. Since founding ServiceMax, Athani has led ServiceMax's product vision and strategy, product design, and product marketing and management functions. With his intimate understanding of customer needs and pain points, as well as technology and industry trends, Athani has played a key role in driving growth and positioning ServiceMax as a leader in the market.
Prior to founding ServiceMax, Athani held leadership and customer management positions in global companies developing technology solutions in ERP, CRM and field service management areas, and advising companies in driving efficiencies, growth and differentiation in their markets.
Athani has a bachelor's degree in EC Engineering from India.
Athani Krishnaprasad's Most Recent Content