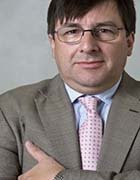 Barclay Rae is CEO for ITSMF UK. He has worked for a number of ITSM organisations, and he delivers strategic ITSM consultancy, as well as media analyst services to the ITSM industry. He and has recently been a co-architect of the new ITIL practitioner scheme with Axelos, plus he is a co-author of the SDI certification standards.
Barclay is an experienced ITSM consultant, analyst and writer. He has worked on approximately 500 ITSM projects over the last 25 years, and writes blogs, research and white papers on ITSM topics for a variety of industry organisations and vendors.
Barclay is also a regular speaker at industry conferences and events, in the UK and globally, including, SITS, SDI, itSMF, Pink Elephant, UCISA and others. Barclay was named in the HDI top 25 Thought Leaders in Technical Support and Service Management, 2017 and 'ITSM Contributor of the year' in 2014 at the SITS show.
Barclay has created 'ITSMGoodness' – a set of practical steps and guidelines – simple practical and proven tips and tools – for successful ITSM. Visit www.itsmgoodness.com for details and free to air access – join the Twitter conversation at #ITSMGoodness and follow Barclay at @barclayrae.
Barclay Rae's Most Recent Content