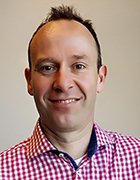 Bart van Moorsel is a solutions design specialist, EMEA, at Tech Data, and has worked at the company for almost two years.
Bart's role is part of the European Security Competence Centre, which creates new programmes for businesses based around new suppliers and product lines – specialising in specific security solutions.
Based in the Netherlands, Bart previously worked as a service provider technical service manager for at F-Secure Corporation, for Benelux, France, the UK and Ireland, before joining Tech Data in 2017.
Bart van Moorsel's Most Recent Content