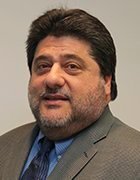 Berge Ayvazian joined Wireless 20/20 as a senior analyst, following more than 20 years as a senior telecom industry analyst and strategy consultant with Yankee Group, where he served as CEO and co-chairman of the 4G World and Mobile Internet World conference programs.
Ayvazian has conducted extensive research on 5G technology, spectrum, IoT and fixed wireless access. He is working with several operators on their 4G BWA initiatives and 5G FWA trials. He has also extensive experience working on small cell and smart city initiatives, municipal broadband, public Wi-Fi and public-private partnerships.
At Wireless 20/20, he leads an integrated practice to help mobile and wireless broadband operators and their vendors to develop their 4G/5G technology roadmaps and build a complete business case leveraging the Wireless 20/20 WiROI™ Business Case Analysis Tools. He has used these tools to develop operator 4G network business cases and address the most challenging modeling problems associated with fixed wireless networks, Wi-Fi Offload, small cell deployments and 4G networks to serve venues such as stadiums, airports and train stations.
Ayvazian also spent five years with UBM as a senior analyst/consultant for Heavy Reading conducting 4G Network and mobile internet research on the convergence of broadband and mobility and the evolving business strategies of mobile service providers and their technology vendors. Ayvazian served as the program director and conference chair of UBM's Tower & Small Cell Summit and he chaired 4G World conferences in the U.S. and India.
Ayvazian is a frequent speaker and/or moderator at other telecom industry events worldwide organized by Informa/Knect365, UBM/Light Reading, 4G World/Yankee Group and W2i Digital Cities Convention. He has been a regular contributor of analyst notes, white papers and webcasts for RCR Wireless, Light Reading, Light Reading India, Wireless 20/20 and 4G Trends media portals.
Berge Ayvazian's Most Recent Content