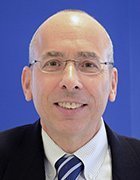 Bob Agnes is EVP of Mitel's Products and Solutions, responsible for Mitel's full portfolio of on-site and cloud products and solutions. In this role, Bob also leads product strategy and development, operations and supply chain, and customer quality. Previously, Bob was EVP and president of Mitel's Enterprise Division, responsible for strengthening and growing this important foundational business, and was EVP and general manager of Mitel's Asia-Pacific Operations.
Bob brings more than 30 years of experience in global telecommunications organizations. He began his career as a software engineer with Hamilton Standard, a subsidiary of United Technologies. He then moved to Tektronix, Inc., where he held various roles and led several key businesses, including as vice president and general manager of the company's video business, vice president and general manager of Tektronix Berlin, head of sales and operations in the Pacific region and vice president of Strategic Initiatives.
Through his career, Bob has also held the following positions: president of Asia-Pacific for Lectra S.A.; senior vice president of worldwide sales and marketing for X-Rite America, Inc.; senior vice president, worldwide marketing; and president of Asia-Pacific for PartMiner Worldwide, Inc.
Bob earned his ASEE from Hartford State Technical College in Hartford, Conn., and a bachelor of science degree in computer science from the University of Connecticut School of Engineering. He also holds an MBA from George Fox University in Newburg, Ore.
Bob Agnes's Most Recent Content