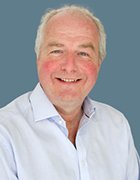 Chris Davies is the founder of an award-winning, UK leadership and sales coaching organisation that helps channel CEOs and sales professionals reassess, then increase, their planned growth potential. He formed Sandler Training in 2013, after having grown a healthy cynicism of training that was impossible for clients to re-enact for themselves and coaching from people who've never actually done it.
As country manager, he turned around D-Link UK&I's long-term losses into a multi-million profitable organisation, increasing sales by 400% in five years, acquiring clients such as Sky, Virgin and BT, and diversifying from a reliance on retail to a two-tier channel model. He had previously led both channel and direct sales teams at IBM, Toshiba, NEC, Viglen and more.
Chris is also a keynote speaker, radio presenter and podcaster on business and sales growth topics. His latest podcast, "The Sellers Wingmen", is available on all key platforms.
Chris also has a residential sales and leadership school in Snowdonia. Programmes for 2021 feature off-site professional sales and negotiation, along with leadership for emerging and existing managers, which combine activities such as surfing, mountain biking and other outdoor challenges for overall well-being and team bonding.
Chris Davies's Most Recent Content