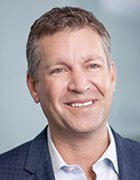 Chris Penrose
Senior Vice President, Internet of Things -
AT&T Mobility -
Chris Penrose is president of AT&T's internet of things (IoT) organization. Chris is responsible for leading AT&T's global internet of things initiatives across industry verticals. This includes auto, agriculture, manufacturing, fleet management, asset tracking, healthcare, drones, energy, smart cities, retail and consumer electronics.
Chris and his team operate on a global scale and drive the strategy and execution for highly-secure connectivity, platforms, professional services and end-to-end IoT solutions. From connected cars to connected cities, Chris has led AT&T to become recognized as one of the leading IoT companies in the world. Chris has also been recognized for championing innovation. He spearheaded the creation of the AT&T Drive Studio for connected vehicles, the AT&T Healthcare Foundry and the AT&T IoT Foundry, all which focus on making it easy for developers and businesses to create and implement IoT solutions.
With 27 years of experience at AT&T and its predecessor companies, Chris has leadership expertise in strategic planning, business development, sales, marketing, distribution planning and customer service.
Chris is a member of the Consumer Electronics Association Wireless Division Board, the FAA's Drones Advisory Committee, the Kelley School of Business Advisory Board, and serves as the chair of the Connected Living Board for GSMA. Chris is also a founder and executive advisory board member of the Together for Safer Roads coalition.
He holds a Bachelor of Science in Marketing and a Master of Business Administration from Indiana University. Chris and his wife Anne live in Atlanta and have two children in college.
Chris Penrose's Most Recent Content