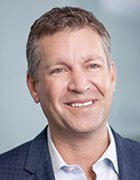 Chris Penrose
Senior Vice President, Advanced Mobility and Enterprise Solutions, AT&T Mobility
Chris Penrose is senior vice president of AT&T's Advanced Mobility and Enterprise Solutions organization. He has responsibility for leading AT&T's business development and specialized sales efforts for next-generation technologies, including 5G, IoT, edge computing and networking solutions.
Penrose and his team connect things all over the world to help customers across industry verticals more quickly achieve their desired business outcomes through innovation. His team also manages AT&T's Innovation Studios, which foster development on a global scale.
Previously, Penrose served as president of AT&T's IoT Solutions organization where he led AT&T to become known as one of the leading IoT companies in the world. With nearly three decades of experience at AT&T and its predecessor companies, Chris has leadership expertise in strategic planning, business development, sales, marketing, customer service and distribution planning.
Penrose is a member of the Kelley School of Business Advisory Board, the Curing Kids Cancer board, the Federal Aviation Administration's Drones Advisory Committee, and serves as the chair of the Internet of Things Programme for GSMA. Penrose is also a founder and executive advisory board member of the Together for Safer Roads coalition.
He holds a Bachelor of Science in marketing and a Master of Business Administration from Indiana University.
Penrose and his wife Anne live in Dallas and have two children, one in college and a recent college graduate.
Chris Penrose's Most Recent Content