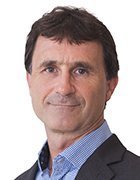 Christoph Ruef is vice president and general manager of HP's multi-billion dollar Americas printing business.
He has spent nearly 30 years working on HP's print operations, managing global product strategy, marketing, go-to-market strategy and sales. He has worked for HP in Europe, Asia and the United States. In these markets, he has overseen tectonic changes to the printing market, navigating the transition from black-and-white to color printers and from single function to all-in-one products.
Christoph speaks English and German and resides in San Diego.
Christoph Ruef 's Most Recent Content